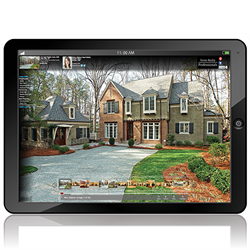 (PRWEB) November 08, 2013
Obeo's new HTML 5 Property Website is being released on, November 8th. This state of the art viewer is built entirely in HTML 5, and features super-fast load speeds, powerful SEO capabilities, and is fully functional on iPad and tablets.
One of the most exciting features of this new HTML 5 Property Website is its mobile performance. Most virtual tour and property websites are built in Flash, and are not mobile compatible. Instead, companies with Flash viewers offer mobile photo slide shows that are missing most the features of the full version. Obeo's new HTML 5 viewer was built with responsive design, meaning it automatically responds to and works on any iPad or tablet and is fully functional. Every consumer, will have the same experience with the virtual tour, whether they are using a PC or a tablet. But Obeo didn't stop there. They designed this Property Website to be touch screen friendly, so consumers interacting with it on touch screens will have an ideal experience.
The feature that truly launches this Property Website into the next millennium is its Room Decorator. The Room Decorator will allow consumers to not only see a property as it is, but to dream what it could be. It gives consumers the ability to decorate the photos with the 3D furnishings and accessories that inspire them. They will say "I can see me there" as they create the rooms that match their style and vision. Consumers will be glued to these property websites for hours, dropping area rugs here, dragging sofas over there, and adding fun accessories everywhere! The Room Decorator is included for free on every listing, for Obeo's EasyEdge members. Non EasyEdge members will be able to purchase the Room Decorator for only $19.95 per listing. The official release for Room Decorator is December 1st.
Obeo's new Property Website also includes all the great features agents have always loved Professional photography, detailed statistics, mass syndication, social media syndication, YouTube video, mobile lead generation, QR codes, brochures, eflyers, Craigslist templates, document hosting, maps, calculators, and more. View a demo of Obeo's new property website here.
About Obeo
As a leading innovator and provider of Real Estate marketing technology in North America, Obeo offers strategic solutions to real estate professionals looking to stand out from the rest. Obeo's marketing engine provides beautiful photography, virtual staging and redecorating, extensive portal syndication, and lead generating social media marketing. Obeo delivers the "ah-ha," experience that leads a buyer to say, "I could see me there." To find out more, visit Obeo.com/PropertyWebsite.