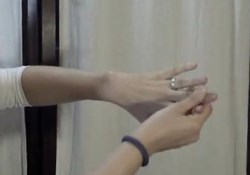 (PRWEB) November 07, 2013
In this guitar lesson, now available on YouTube.com, Alejandra Mesliuk demonstrates some hand massages and stretching exercises for guitar players. These simple, yet effective exercises and massages that Alejandra demonstrates can be done without the use of any special equipment and can be done almost anywhere. Being properly warmed up and loose in your muscles and joints can help to avoid problems such as tendonitis and carpal tunnel syndrome from long practice sessions or long performance times. Just as you would not go on a long run without warming up, the same should be considered when practicing or performing.
Mesliuk starts off by demonstrating a muscle massage technique for your fretting hand that consists of using the thumb of your non fretting hand to make little circles starting at the palm and working up to the ends of each finger on both sides of the hand. Then she moves on to grasping the tip of each finger on the fretting hand and doing some light twisting of each finger. Then she demonstrates on both hands with all fingers extended to rotate each finger, followed by stretching the wrists by pulling backward and forward on the hand. Then Mesliuk demonstrates a great exercise for finger stretching that isolates each finger on both hands by spreading each finger apart from one another, one at a time. And finally another wrist stretching exercise by lacing your fingers together and rotating your hands.
Alejandra Mesliuk
Alejandra Mesliuk is from Buenos Aires, Argentina. She studied jazz guitar harmony and under the method in Temperley Berklee School of Music by Ariel Ferreyrola. She has been an area teacher and clinician for the last 10 years in electric guitar, classical, and musical language. She is currently working on a solo album.
About GuitarControl.com
GuitarControl.com is the leader in modern guitar instruction. It's packed with recourses including articles, video lessons, and the best videos in the business for the beginner to the advanced guitar student taught by the best instructors out there. Whether you are into the blues, rock, jazz, metal, folk, or anything in between, they have you covered.