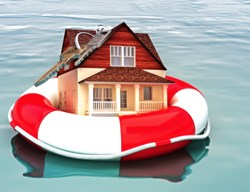 Dennis just completed this very uncomfortable situation with confidentiality and professionalism. Great job. Mike
Virginia Beach, VA (PRWEB) November 07, 2013
The biggest hurdle in selling a home (short sale) owned by a couple going through divorce will usually be just getting one or more lenders to agree to take a loss and release their lien when the closing happens.
But clearing the biggest hurdle does not make the little hurdles go away. Virginia is an equitable distribution state. That means that even if Virginia is not a "community property" state like Texas, the judge in a divorce still has broad powers granted by the legislature to divide up real estate between the husband and wife. This can cast a shadow over title to property in some cases.
These are some considerations to keep in mind for parties to a divorce or professionals helping them sort out real estate issues. Divorce involves a bundle of rights and issues and for purposes of real estate, two key components must be addressed:
(1) Ownership
(2) Liability
First as to Liability: some mortgages hold one party of the two liable and others hold both personally liable. Either way, unless I's were not dotted at closing, the bank can take the house back under Virginia's liberal foreclosure laws, just by advertising and conducting an auction!
Secondly, divorcing parties need not have missed mortgage payments to be eligible for a short sale! Banks, lenders, Fannie, Freddie, and others consider divorce to be a "hardship" and a likely indicator that there is a real potential for default on a loan.
Foreclosure brings on many other problems for both the lender and home owners. The bottom line is that banks are enlightened enough now to generally not require delinquency prior to approving a short sale and all other things being equal, divorcing parties should try to preserve as much of their credit as possible by making payments.
Finally, as to liability, there may be some ongoing deficiency to pay the bank after the short sale is completed. But with good professional assistance this deficiency can often be eliminated. Key to accomplishing this is to hire a listing agent who can set the best pricing to achieve the least time on market AND the largest possible recovery for the lender.
Divorce, like Short Sale, is a process in which the people involved hope that they can find "closure" and a fresh start. That will generally be the shared goal of the parties, the listing agent, and the legal counsel involved.
Next, as to Ownership: In a divorce, a judge may require the sale of a marital asset. Failure to comply with a court ordered sale within the time limits set forth by the judge can result in one of the spouses being "found in contempt of court". The fact that the marital home may be worth less than what is owed on it will not be a valid excuse for failing to hire a listing agent and trying to sell the home! The seller can't afford to be in denial in this situation, one of the penalties for disregarding such a court decree is jail time!
And just as divorcing parents must learn to cooperate "for the good of the children", it is very much worth it to both parties to treat the marital home as a child. A short sale requires cooperation with both spouses. The parties need to be rational and understand that the Short Sale process will ultimately be of long term benefit no matter how irritating the documentation and other short term demands may be.
Credit damage will be minimized and each party to the divorce will salvage much better alternatives for finding new housing in the future!
Keep the following important factors in mind when considering a divorce/short sale:

Divorcing parties who take care of other aspects of their credit can generally qualify for a mortgage to buy a new home or condo within 2 years.
Credit recovery after a foreclosure will take much longer, historically, up to 10 years.
Don't confuse a court order for one spouse to sign property over to the other as constituting an actual conveyance. An additional step must be taken even after such an order is entered. There must be a deed signed by the spouse commanded to transfer title.
If a spouse is on title they still have to sign the listing
All parties on the title must sign the deed at or before closing.
Cooperation by both divorcing spouses is paramount to a successful short sale and potential release of pursuit of deficiency judgment.
A divorce short sale will take months to accomplish. But be proactive and methodical:
Starting with listing the property;
Hire an attorney who specializes in short sales to make the best presentation of your hardship to your lender(s) and to advise and protect you throughout the process.
Obtaining a contract offer and make sure your agent knows how to protect you by referencing the short sale in the contract;
Use an experienced short sale REALTOR® such as Dennis Blackmore who works closely with the Attorney's office to ensure a non-stressful and smooth transaction. Confidentiality is a hallmark of our business.
Considering a short sale related to divorce? Get more information about the short sale by taking advantage of the "free" consultation offered whether by phone (757-467-7600) or e-mail, with Real Estate Legal Services. (http://www.RealEstateLegalServices.Com)
About: The Short Sale Department of Real Estate Legal Services is headed by Attorney Charles D. Pittman, Jr., of Virginia Beach. His short sale team can be reached at the Virginia Beach office here. Dennis Blackmore, REALTOR®/Agent Owner with Creed Realty Virginia Beach can be reached here. Call direct at (757) 343-4949