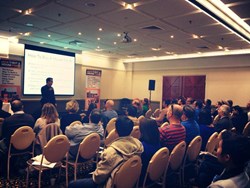 In the current state of the property market, you'll never know if the capital gain you're waiting for will happen or not.
(PRWEB) November 08, 2013
"We get a new report of top investment spots in Australia every week, but, in reality, you're not really missing out on anything if you don't get a house in the suburbs mentioned on these lists," said Rick Otton, the author of the best-selling finance book How To Buy A House For A Dollar.
A report from the Australian Property Investor sent on 30 October 2013 released a ranking of the top 50 suburbs in property investment. Morayfield in Queensland ranked first with rental yields of 5.51 percent, while 6 suburbs out of the top 10 came from New South Wales with rental yields above 5.5 percent (Onthehouse.com.au).
"People who write these reports find the top spots for property investment based on capital growth, which means investors need to spend for a whole bunch of capital, stamp duty, and other costs just to get a profit. This may have been effective before, but in the current state of the property market you'll never know if the capital gain you're waiting for will happen or not," Mr. Otton shared in a recent interview for his Power Property Profits Pack.
He also revealed that, "when the report comes out, the 'hot spots' identified in it have already gone cold. Property prices have gone up, and regular investors without a large pool of cash will have a hard time buying property for sale."
"Aside from that, there are so many reports out there claiming that the location they found are the 'real' property hotspots; that's why it's hard to rely in just one report when choosing a suburb to buy an investment property," he added.
Mr. Otton then explained that instead of following the old processes, property investors should start thinking creatively when getting into investment property.
"The truth is that any suburb in Australia is a hotspot, since anywhere where you can get a house without paying a large amount of deposit or applying for new home loans is a top spot for property investment," he said.
To learn more about Rick Otton's creative real estate strategies, you can visit http://www.howtobuyahouseforadollar.com/ to sign up for a free copy of the Power Property Profits Pack.
About Rick Otton
For over 23 years property millionaire Rick Otton has built an impressive real estate portfolio using innovative strategies that he has developed – strategies in which transactions are made without the need for traditional bank-type loans.
He constantly refines his techniques as he buys and sells properties through his We Buy Houses business which operates in Australia, New Zealand and the UK.
A gifted speaker and educator, Mr. Otton conducts regular one-day free seminars across Australia, which build on the the concepts he shares in his 2012 book 'How To Buy A House For A Dollar', voted by Money Magazine and Dymocks Book stores as one of the Top 10 Most Popular Finance Titles for 2013.
He regularly records and publishes iTunes podcasts via his channel Creative Real Estate.
His innovative low-risk, high-reward approach to Australian real estate investing has been featured in a variety of television programs and magazines, including Today Tonight, Hot Property and Australian Property Investor.
To register for one of Mr Otton's free Australian one day seminars visit HowToBuyAHouseForADollar.com.au or phone, in Australia, 1300 888 450.