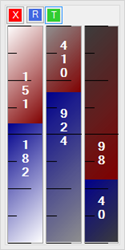 Jigsaw Power Meters give a graphical representation of the "3 gears" of the market.
Bangkok, Thailand (PRWEB) November 15, 2013
In today's fast paced markets, day trading is dominated by HFT's and trading algorithms. The ability to read and absorb market order flow information quickly is becoming as important as the ability to use that information to make a trading decision. In the latest release of their popular order flow software suite for day trading, Jigsaw Trading has taken a leap forward with the implementation of Market Power Meters.
For the past 2 years, Jigsaw Trading has been offering a unique set of solutions to professional and retail day traders focused on helping them make sense of Order Flow information in a world of algorithmic 'sucker plays'. As well as tuning traders into the flow of the markets, Jigsaw lay bare much of the manipulation that occurs on the Depth of Market (DOM), showing users where iceberg orders are being executed, where traders are pulling orders and stacking levels on the DOM, where traders are stepping up to absorb buying and selling and where larger traders are coming into the market.
Jigsaw Trading is pushing the boundaries even further with version 5.2 of their product released on 15th November, 2013. According to their CEO, Peter Davies "There's been a lot of demand from our customer base for more graphical representation of the concepts we present on our tools. The challenge of course was to make something intuitive without dumbing things down to the point of uselessness. We finally settled on the Jigsaw Power Meter concept which has been refined with the help of a group of loyal customers that are always willing to test drive new concepts during the development cycle".
The Jigsaw Power Meters give a graphical representation of the "3 gears" of the market - Trade Execution, Market Intent, Market Manipulation.
First Gear – Trade Executions.
As the market turns, the flow of orders switching from one side to the other is clearly presented. Execution information can be reset as the market moves towards a level of interest, allowing traders to focus on the reaction of the market to that level. An 'auto reset' can trigger when a trade is placed. Trade management can be refined based on order flow on side or against immediately after entry. The Trade Execution view can be tuned to show all traders or just the large institutional traders. There is, after all, no benefit in siding with the small players. Meter resets can be across all instruments with a single click for those that trade multiple correlated markets.
Second Gear - Market Intent.
This meter graphically presents selected bids and offers. Bids will outnumber offers in a move up until price reaches a resistance area. If the bids outnumber the offers by a huge amount, bidders are trying to make the market appear very strong to sucker others into buying. This often signals the end of a move up. Having the Market Intent meter on a user's side is good but having it on their side and totally overwhelming the opposition – that's a time to stand aside.
Third Gear - Market Manipulation.
This more volatile meter gives a visual representation of the adding and cancelling of orders on the buy and sell side. This is especially useful when the market pauses at a level or if day traders suspect a 'flip trade' is being executed. People that put in spoof orders to fool others will stand aside when the market moves towards them. This meter clearly shows that activity. In addition, it also shows when other traders come in and start adding orders. In fact, the meter algorithm is intelligent enough to know that both often happen at the same time and has the smarts to figure out how to present that graphically.
Jigsaw Trading appreciates that many retail traders don't realize how widely used these concepts are in the professional day trading world, especially in proprietary trading shops. Jigsaw has the best publicly available order flow educational resources on line for aspiring traders both on their Jigsaw Trading Order Flow Lessons and the Jigsaw Trading Order Flow Day Trading Blog. The content on the blog contains webinars, live trade videos and content from Jigsaw customers. Take a look around today.
Jigsaw Trading is a privately held company that provides innovative solutions for traders day trading stocks and futures markets. Rated number 4 out of 280 software companies on Investimonials. Jigsaw is based in Bangkok, Thailand.