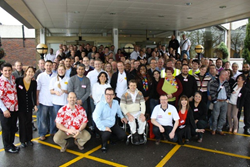 It's about time to create new standards in the real estate market, because you can't solve new problems with the old processes
(PRWEB) November 09, 2013
"Home buyers in U.K. will never become home owners if they keep on following the old process of buying houses for sale," warned Rick Otton, the man who introduced creative real estate strategies in U.K.
CBRE's Autumn 2013 report found that high demand and low supply of new houses will drive house prices in the U.K. to jump 17 percent in the next five years (Property Wire told, 29 October 2013).
"House prices in the U.K. are already in record levels right now, and its continued increase in the next few years will only push more home buyers out of their dream of becoming homeowners, especially if they still following the old process," Mr. Otton explained during a new interview for his Power Property Profits Pack.
"Even with the presence of the 'Help to Buy' scheme, home buyers are still struggling to save up a large amount of deposit on a house, since property prices rise faster than the salary of regular Britons, and they also can't turn to new mortgages as a backup plan to pay for a house, because the banks have become more strict in giving them out," he shared.
Mr. Otton then shared that with the current scale of price increases in the U.K. Britons could only buy homes with the help of creative strategies.
"Creative strategies have been used by many home buyers and property investors in the U.K. for over ten years to buy houses for sale without paying a large amount of deposit or getting new mortgages," Mr. Otton revealed.
"This is possible since these alternative processes don't rely on one big cash payments, and, instead, creates flexible payment terms between the buyer and seller to produce deals which can give more benefits to both parties," he explained further.
"It's about time to create new standards in the real estate market, because you can't solve new problems with the old processes," he said.
You can discover more creative real estate strategies in Rick Otton's limited-edition Power Property Profits Pack. Get your free copy now at http://www.rickotton.co.uk/.
About Rick Otton
Rick Otton is a property investment professional who, over the last 23 years, has introduced innovative real estate strategies to the UK, Australian and the United States. His creative 'low-risk, high-reward' approach to buying and selling houses is exemplified in his own business, We Buy Houses.
This year marks the 10 year anniversary of Mr Otton introducing his strategies to the UK, and the 5 year anniversary of his innovative 'Buy A House For A Pound' process – one that attempted to be emulated by others. His constant process of strategy refinement, and adapting to the ever-changing real estate market, continues to place him at the forefront of property investment education.
In 2012 Rick Otton published his Australian book 'How To Buy A House For A Dollar' which was named in the list of Top 10 Most Popular Finance Titles for 2013. A UK version is on the drawing board for publication in 2014.
Mr Otton freely shares insights into his non-bank-loan strategies that have allowed everyday UK men and women to beat the rental cycle and have their own homes. He coaches others on how to build profitable businesses by facilitating transactions that focus on the needs of potential buyers and motivated sellers.
Access his free downloadable Power Property Profits Pack at RickOtton.co.uk, as are the details of early bird pricing for his next UK 3-day real estate training conference in March 2014. Phone enquiries in the UK are welcome on 0207 000 1027.