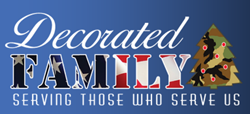 We believe strongly in giving back to our community, and through the Decorated Family program, we are able to bring some cheer to their families here at home. - Patt Mosley, Director of Marketing & Communications
Kennewick, WA (PRWEB) November 07, 2013
For several years, Senske Services has been committed to offering complementary holiday decorating services for military families in the markets they serve through Christmas Décor's Decorated Family program. This holiday season, Senske will once again participate in Decorated Family, which finds 200 families of deployed service men and women across the country and decorates their homes for Christmas.
Senske Services is currently accepting nominations which may be submitted by texting "LIGHTS" to 34-34-34 or by sending a holiday card to Senske's corporate office in Kennewick, WA. Nominations will be opened until November 22nd. Senske's owners say this is their way of giving back to those who serve the country.
With Veteran's Day approaching, Senske Services wanted to get the word out about the program to make sure more families are able to take advantage of it.
The Decorated Family Program began in 2003 when a former Senske branch manager attended a holiday dinner party and began to consider all the military members serving overseas who wouldn't be able to celebrate with their loved ones. Through Christmas Décor, the program spread and is now in its tenth official season.
In August of this year, Senske was presented with the first ever Maury S. Frankel Award for Philanthropy at the Christmas Décor Conference for its pro-bono Christmas decorations, as well as its enthusiastic involvement with local charities and fundraising activities. More information about the Senske tradition of holiday lights may be found on the company's website at Senske.com.