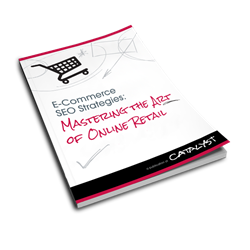 Boston, MA (PRWEB) November 07, 2013
Catalyst, a leading search engine marketing firm, today published: e-Commerce SEO Strategies: Mastering the Art of Online Retail. The eBook provides search engine optimization strategies and tactics to help Web merchants and marketers improve retail results.
Believe it or not, the 2013 holidays are nearly here! That means online merchants everywhere should be busy getting their websites fully optimized before Black Friday, Cyber Monday, and the entire holiday shopping season. Fortunately, Catalyst has just released a new eBook that will help them do exactly that.
"e-Commerce SEO Strategies: Mastering the Art of Online Retail," is an optimization guide for Web merchants and marketers. The eBook provides SEO strategies, tactics, and recommendations on how to improve results for various types of Internet-based retail, including mobile, local, and social. Specifically, the eBook addresses key search optimization issues, and focuses on three areas: how to create an optimal buying environment, how to find customers, and how to track and measure efforts.
"SEO is more important to merchants than ever before," said Beth LeTendre, CEO, Catalyst. "In fact, shopping listings occupy more 'real estate' in the search engine results today than informational pages. That means brands now have a better shot at turning website visitors into paying customers – but only if their content is properly optimized. Brands that fail to fully optimize their content are literally leaving money on the table."
The free eBook also touches on the related subject of e-Retail and leveraging third-party sites like Amazon.com. The book helps merchants and marketers understand the e-Retail landscape, the importance of e-Retail optimization, and the tools needed to succeed in the e-Retail channel.
"e-Retail can play an important part in an online merchant's growth and sales strategy today," said LeTendre. "Large e-Retailers offer considerable benefits such as a huge established user base, high search engine rankings for competitive product-related terms, and consumer deals, like free shipping. But before businesses pursue the channel, they need to fully understand how e-Retail optimization can dramatically impact their efforts."
"This eBook should help Web retailers understand how vital SEO is to their business today," said Rich Ezzo, Director of Sales & Marketing, Catalyst. "It will also help them learn about the SEO technologies they need to remain competitive, and the best practices that could boost their sales and revenue."
Merchants and marketers are encouraged to download a free copy of the new eBook and to explore Catalyst's other publications: Social SEO Strategies: Mastering the Art of Social SEO, and Google CTR Study: How User Intent Impacts Google Click-Through rates.
About Catalyst
Catalyst, a pioneer in search engine marketing since 1998, is renowned for developing strategic digital marketing solutions for Fortune 500 brands. The firm is the search agency of record for many of the world's top companies. Headquartered in Boston with offices in New York, Chicago, Seattle, Toronto, and Montreal, Catalyst serves numerous B2B and B2C clients in a variety of industries. The search engine marketing firm prides itself on being THE Search Innovator of the industry. Catalyst's offerings include: search engine optimization (SEO), paid search marketing (PPC), social SEO, content strategy, digital asset optimization, mobile search, e-retail optimization, local search optimization, global search, and competitive reporting. Catalyst is a wholly owned subsidiary of WPP, and is part of GroupM. For more information about Catalyst, please visit http://www.catalystsearchmarketing.com.