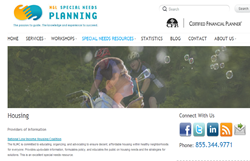 As a part of that focus, these financial planning experts will launch their Independent Living Program and Housing Project on November 11th of this year.
Washington, DC (PRWEB) November 07, 2013
M&L Special Needs Planning, LLC is a financial and life planning company that caters to families with special needs. As a part of their commitment to ensuring that their clients have access to all the information and services necessary to secure their future security and financial stability, the company has (within the last year or so) began to focus their attention on housing for individuals with disabilities. In light of this, M&L Special Needs Planning. LLC is proud to announce the release of the Independent Living Program and Housing Project on November 11th, 2013.
One of the key features of this online housing resource is the ability to search for housing programs and information by state. According to M&L, this feature was incorporated into the project in response to the varying levels of housing and housing services in each state. As the company writes in their blog, "As we became more and more immersed in housing, and started to work more frequently with families who were looking for housing options, we found that we were often asked this question: 'which state is the best in terms of offering housing options?' That question is usually followed by, 'should I move my family member with disabilities to another state to access a better range of options'?"
As M&L points out, subscribers to the Independent Living Program and Housing Project will be able to answer that question quite easily once the database launches; however, they did prepare a brief analysis of the topic in their weekly blog. In this discussion they company drew on data from National Council on Disabilities' report, The State of Housing in America in the 21st Century: A Disability Perspective, and the Cerebral Palsy Association's report, The Case for Inclusion: 2013 as well as their own experience, to provide you with a brief analysis of the best (and worst) states, in terms of housing.
The National Council on Disability's Report: Which states are the best at housing?
As M&L states, this question can be very tricky to answer. Housing for individuals with disabilities is a constantly evolving medium. Programs that are here today may have their funding cut, and cease to exist, tomorrow. Often, programs that have been in the works for months, or even years, are abruptly cancelled due to policy changes, funding cuts, or shifting government priorities. Similarly, completely new housing programs may arise out of nowhere (or, they appear to, at least).
M&L references the NDC report, where it is stated that federal resources needed to create these housing opportunities are not sufficient to meet the needs in most, if not all, communities – entitlement funding is not based on relative need of housing, rather a formula designed to reflect need per capita. The report points to California as the state that has the largest population of non-institutionalized individuals with disabilities, followed by Texas, Florida, New York and Pennsylvania. New York has the largest share of public housing, followed by Pennsylvania.
According to the NCD, the states that rank consistently in the top 10 across all categories of housing are Illinois, Ohio, Pennsylvania and Texas. Alaska, Idaho, Montana, North Dakota, South Dakota, Wyoming, and the District of Columbia rank in the bottom ten consistently.
The Case for Inclusion's State Ranking for 2013 – Housing and Other Factors
The Case for Inclusion Report: 2013 doesn't examine housing independently as a factor when ranking state performance. Instead, it examines states across a variety of factors, ranking them based on performance in each.
For example, in one category that can be considered housing related – keeping the family together – the Case of Inclusion gathers information from each state and compares them based on this information. The report uses these comparisons to rank states in order of best and worst. Let's examine Florida– it has an overall ranking of 31 (with 1 being best and 51 being worst). This state houses 916 individuals in large state facilities, a cost of $182,865/person/year. The report also examined the number of families served, the wait lists for housing and community programs, and the portion of people and dollars in HBCS (Home and Community Based Supports). The report also examines employment, education, practices, and policies.
The Case for Inclusion's Top Ten States in terms of services for individuals with disabilities (in which housing is included) are Arizona (#1), New Hampshire, Oregon, Vermont, California, Washington, Michigan, New York, Connecticut, and Massachusetts.
The Bottom Ten States are New Jersey (#42), Iowa, Oklahoma, North Carolina, Tennessee, Virginia, Illinois, Texas, Arkansas, and Mississippi (#51).
Which States Would M&L Recommend as Having the Best Housing Programs?
Each and every state offers very different options and opportunities for housing; some states are light years ahead of others in terms of the creation and development of housing programs and options.
In M&L's workshop, titled "Overview of Residential Options & How to Plan Financially" they discuss different housing options in each state. (This workshop is available by request – contact M&L for more information.) The company urges families to keep an open mind to the idea of relocation if there is housing model that suits their loved one. They also point to another option for families who really like housing options in other states but cannot find a similar one in their home state: begin a grass roots organization and create their own housing model.
According to M&L, this grass roots-approach to housing is becoming increasingly popular – families and professionals are working towards creating housing models in states that have strict regulations, and they are finding ways to make legislation work for models that can accommodate more individuals with disabilities. M&L hosted their own housing seminar with the Center for Independent Futures (CIF) in an attempt to bring interest and attention towards replicating the CIF Community Living Option residences in Washington, D.C., Virginia and Maryland.
M&L lists their top three housing states as Massachusetts, California and Arizona.
M&L Special Needs Planning, LLC works to help families acquire the information, resources and tools needed to plan for the future of their family members with special needs. Through discussion and analysis of issues relevant to those individuals with special needs, these certified financial planners strive to educate families and help them better plan for their financial future. Those wishing to read more about housing for individuals with disabilities or wish to subscribe to their Independent Living Program and Housing Database can visit the M&L Special Needs Planning, LLC website and are encouraged to contact them for more information.