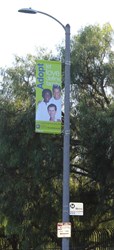 The upcoming holiday season is a special time when people think about family and family building.
Los Angeles, CA (PRWEB) November 07, 2013
In an expanded effort to outreach to the lesbian, gay, bisexual, and transgender (LGBT) community, RaiseAChild.US is launching a national campaign entitled "Let Love Define Family" and is hosting special events in a five-city tour in mid-November and early December for National Adoption Month. The events will be held in Chicago (November 18), Los Angeles (November 20), Kansas City (November 21), New York City (December 3), and San Francisco (December 5). The evening events will feature an LGBT parent panel and actor/comedian Alec Mapa performing an excerpt from his one-man show "Baby Daddy" about adopting his son from the foster care system.
RaiseAChild.US believes all children deserve a safe, loving, and permanent home. The Los Angeles-based nonprofit encourages the LGBT community to build families through fostering and adoption to serve the needs of the 400,000 children in our nation's foster care system. Recognizing that many prospective parents fear they will not be accepted by foster and adoption agencies because of their age, marital status, or other reasons, RaiseAChild.US provides its services free to anyone who wants to foster or adopt from the foster care system by helping them navigate the system through RaiseAChild.US's unique Parent Advocacy program.
"The upcoming holiday season is a special time when people think about family and family building," says RaiseAChild.US founder and CEO Rich Valenza, who adopted a five-year-old girl and six-year-old boy from foster care before founding the organization. "At RaiseAChild.US, we are concerned year-round about the hundreds of thousands of children in foster care. Our goal is to find safe and loving homes for these children and we know that non-traditional family formations are another solid and proven answer to this national crisis."
Actress Sherri Saum, who stars in ABC Family's groundbreaking hit drama series "The Fosters," has lent her support by recording radio PSAs that will air in Chicago, San Francisco, and in Spanish and English in Los Angeles. Saum and her co-star Maia Mitchell each participated in an interview for the RaiseAChild.US "Let Love Define Family" series in Huffington Post Gay Voices. Actor comedian Alec Mapa participated in media interviews to promote RaiseAChild.US's work in the Advocate.com and in the Chicago Tribune. In addition to radio and television PSAs, the organization's media campaign includes transit ads in Chicago, and streetlight banners in San Francisco, Los Angeles, and Long Beach, California.
RaiseAChild.US's agency and community partners include: Little City Foundation, Camelot Cares Centers, and the Center on Halsted in Chicago; Los Angeles County Department of Children and Family Services, Penny Lane Centers, Southern California Family Foster Adoption Agency, Vista Del Mar Child & Family Services, Five Acres, and The Village Family Services in Los Angeles; Midwest Foster Care & Adoption Association in Kansas City; NYC Administration for Children's Services and The LGBT Center in New York City; and EMQ FamiliesFirst and Adopt A Special Kid in the San Francisco Bay Area. National partners include Human Rights Campaign Foundation, Wells Fargo, Huffington Post Gay Voices, Gay Parent Magazine, The Fight Magazine, and Gay City News.
More than 104,000 children in the foster care system are available and waiting to be adopted, and many more need foster homes. Families certified for either foster or adoptive placements are in short supply.
RaiseAChild.US campaigns welcome and support prospective LGBT parents while putting images of LGBT families into public spaces through PSAs, print media, and outdoor advertising. Since 2011, RaiseAChild.US has engaged more than 1,400 prospective parents nationally and become a leading organization for public education and advocacy on behalf of children awaiting foster and adoptive homes. For more information or to RSVP for events, visit RaiseAChild.US.
RaiseAChild.US works closely with the Human Rights Campaign Foundation's "All Children – All Families" (ACAF) initiative, which provides professional training and technical assistance to foster care and adoption agencies that want to welcome and support LGBT foster and adoptive parents. To date, ACAF includes nearly 70 participating agencies across the country and has awarded 30 seals of recognition.