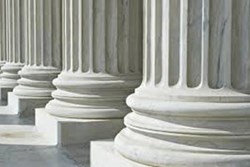 Alonso Krangle LLP offers free legal consultations to consumers who have been injured by defective products. To discuss a case contact Alonso Krangle LLP at 1-800-403-6191 or visit our website, http://www.FightForVictims.com
New York, NY (PRWEB) November 07, 2013
Alonso Krangle LLP, a deiciated law firm that "fights for victims", together with its co-counsel, has filed a federal class action lawsuit against Wacoal America Inc. and Maidenform Brands, Inc. over allegedly deceptive marketing claims the Defendants made regarding the purported slimming benefits of the Novarel Slim Fabric used in "Novarel Slim iPant" and "Flexees" brand shapewear. The Novarel and Flexees class action lawsuit, which was filed in U.S. District Court for the Eastern District of New York on November 5, 2013, seeks class action status for all persons who paid, in whole or in part, for shapewear constructed with Novarel Slim fabric and manufactured, marketed or sold by Wacoal or Maidenform for personal, family or household uses. (Case No. 2:13-cv-06122)
According to the class action lawsuit, the Defendants claim that Novarel Slim Fabric, manufactured by Nurel SA, contains ingredients that can be absorbed by the body and permanently change the wearer's skin tone and body shape. These ingredients include embedded microcapsules containing caffeine to promote fat destruction, vitamin E to prevent the effects of aging, ceramides to restore and maintain the skin's smoothness, and retinol and aloe vera to moisturize and increase the firmness of the skin. Specifically, Wacoal American and Maidenform promise that use of Novarel Slim iPant and Flexees products will result in fat destruction and reduce the appearance of cellulite. According to the complaint, the companies charge up to 50 percent more for shapewear products that contain the Noveral fabric compared to the cost of comparable shapewear that does not purport to contain these ingredients.
The Novarel and Flexees class action lawsuit alleges that the claims used by Wacoal and Maidenform to market Novarel Slim iPant and Flexees shapewear are deceptive and misleading. Among other things, Plaintiffs point to research from the Mayo Clinic, which found that cellulite cannot be "cured" with topical applications.
( mayoclinic.com/health/cellulite/DS00891/DSECTION=alternative-medicine )
They further allege that the Defendants take advantage of the insecurities that woman have about their bodies, as the companies "know that the annual revenue of the U.S. weight-loss industry is $20 billion*, sales of shapewear are estimated at $1 billion annually**."
*( abcnews.go.com/Health/100-million-dieters-20-billion-weight-loss-industry/story?id=16297197 )
**( forbes.com/sites/clareoconnor/2012/03/07/undercover-billionaire-sara-blakely-joins-the-rich-list-thanks-to-spanx/ )
The class action complaint alleges violations of the New Jersey Consumer Fraud Act, breach of express warranties and unjust enrichment. It seeks, among other things, restitution for the amount of money Class Members spent to purchase Novarel Slim iPant and Flexees garments.
Alonso Krangle LLP offers free legal consultations to consumers who have been injured by defective products. To discuss joining the Novarel and Flexees class action lawsuit, please contact one of the experienced consumer injury lawyers at Alonso Krangle LLP by calling 1-800-403-6191 or visit our website, http://www.FightForVictims.com.
About Alonso Krangle LLP
Andres Alonso and David Krangle, attorneys with almost 40 years of collective legal experience, have focused their law practice on the handling of significant personal injury cases, defective drug and medical device litigation, construction site accidents, nursing home abuse, medical negligence, qui tam/whistleblower actions and consumer fraud cases. A nationwide law firm representing injured victims throughout the U.S., Alonso Krangle LLP is headquartered in Long Island, New York, with offices in New York City, and New Jersey. To discuss joining the Novarel and Flexees class action lawsuit, contact Alonso Krangle LLP at 1-800-403-6191 or visit our website, http://www.FightForVictims.com
For more information about Alonso Krangle LLP or to join the fight and be a part of our team, contact us at 1-800-403-6191 or visit our website, http://www.FightForVictims.com
Contact:
Alonso Krangle LLP
445 Broad Hollow Road
Suite 205
Melville, New York 11747
Toll-FREE 1-800-403-6191
Tel: 516-350-5555
Fax: 516-350-5554