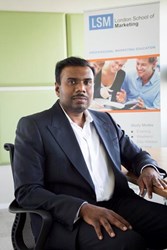 (PRWEB UK) 7 November 2013
A vastly experienced marketer who has driven the introduction of London School of Marketing's successful ODL course offering, Mr. Dominique gives his insight into the future direction of this multi-billion pound educational revolution.
The article starts by revealing that David Hancock, chief executive of the Independent Association of Prep Schools, has suggested that GCSEs and A-Levels may be taken online within ten years. While Mr. Dominique raises the fact that there has been some doubt raised about the efficacy of this, he also points out that the market is already moving in this direction. In fact, he reveals that the market is forecast to grow by 50% in just five years.
"Regardless of how this debate unfolds, it is inevitable that more educational systems and programmes will continue to migrate online," says Anton Dominique. "This is supported by the fact that the market for e-learning continues to grow exponentially. A survey by Ambient Insight Research has shown that the worldwide market for e-learning products was £20.5 billion in 2010 and is expected to rise to over £31 billion by 2015."
Mr. Dominique displays a passion for the subject. As the COO/CFO of an institution that provides both academic and professional courses onsite, from their Central London location, and online, to an international audience supported by a network of Overseas Support Branches (OSBs), he is able to leverage his experience as a senior educational provider. Mr. Dominique proves to be a reliable voice when revealing the factors that should be considered by all prospective ODL students.
"Accreditation identifies a qualification as valid and is an assurance of quality. It also means that the educational establishment has met all the requirements to provide excellence," Anton Dominique informs us. "It is also worth finding out the percentage of students that have graduated. A pass rate calculates the number of students enrolled compared to the percentage of students who graduate, and low graduation rates are not a good sign. The credibility of your course is the most important thing to consider as this is what future employers will look at." Read the full article
London School of Marketing delivers accredited marketing and business qualifications, and offers courses from recognised professional bodies such as CIM, ABP and CAM, BA (Hons) Marketing, MA Marketing and Innovation, and an MBA from Anglia Ruskin University. Based in Central London, they are a QAA approved institution and hold Highly Trusted Status with the UKBA. The school also has offices in Sri Lanka, a network of Overseas Support Branches (OSBs), and online programmes of learning. Courses are run over a broad range of study modes. Further details are available at: http://www.londonschoolofmarketing.com.