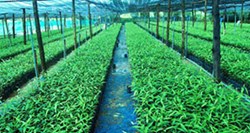 Thailand, Bangkok (PRWEB) November 08, 2013
Following today's meeting with K. Pipat an agreement has been reached on the development of the JV between Asia Plantation Capital & K. Pipat families.
Asia Plantation Capital will develop and plant not only a showcase Agarwood plantation but also a full visitor centre on land owned by the K. Pipat families. This project will be based upon the extensive agro-forestry experience of Asia Plantation Capital across numerous other plantations in Thailand, and the model they have been studying and are potentially also developing in Hainan, China. A similar project is already underway in Hong Kong as a joint venture with Chan Koon Wing and Shun Lam Farms; a 3rd generation agarwood farming business and last surviving plantation in Hong Kong.
The idea behind this development is two-fold; primarily to showcase Asia Plantation Capital and its plantation management systems as the most dedicated and advanced plantation company in Asia focusing on the development of the agarwood industry on all levels; as well appealing to the growing tourist aspects of the agarwood industry as driven by its importance across Asia, at both the rural economy level and with international trade, and the cultural significance of Oud oil in the Middle East and China.
The development will be in stages over a scheduled 12-month period, with works starting in November 2013 and showcased with live updates on the Asia Plantation Capital website :-
Stage One will be the preparation of the site, located near the Khao Yai National Park area, and planting agarwood saplings in the unique system Asia Plantation Capital has now developed on what is fast approaching 2000 Rai (320 hectares) in Sakon Nakhon; laid out with state-of-the-art computerised irrigation and nutrient delivery systems as well as sophisticated 24 Hour monitoring.
Stage Two involves the construction of buildings to house a modern visitor centre depicting the history and uses of Agarwood and Oud oil, as well as a model-working distillery, laboratory, and a retail outlet for all end products including Oud based fragrances and related items produced by Fragrance Du Bois. Large video screens will not only display the history of Agarwood and the modern agro-forestry processes as used by Asia Plantation Capital, but also educate visitors on the importance of CITES in protecting these rare trees and live stream video feeds from all the Asia Plantation Capital online cameras located on their plantations. There will be a corporate sales office within the development for agarwood products and oil, export sales, as well as plantation and management services.
With proper planning and absolute attention to detail Asia Plantation Capital and the Suvanajata family aim to make this attraction of great interest to local tour operators. The area is growing in popularity with many tourists visiting nearby holiday resorts; also the National Park is a key attraction to the local population who already descend to this area in large numbers just about every weekend and on public holidays.
Asia Plantation Capital and the K. Pipat families are also keen to explore cooperation, field experience and R&D opportunities with Universities in the region. Skills associated with forestry in the Kingdom of Thailand are both traditional employment and long term contributors to the future economy. As the global economy reassesses its viewpoint on fossil fuels and oil derived plastics, trees are once again being studied more intensely for their uses in nanotechnology, fuel-cell storage and medicinal applications in addition to their traditional uses. Aquilaria and Agarwood are classic examples of high value and high status industries being created and supplied by simple trees, both partners in this new Joint Venture are excited to build strong collaboration with academia and develop new commercial opportunities for the benefit of this semi-rural region and the Kingdom of Thailand as a whole.
Barry Rawlinson, CEO of Asia Plantation Capital explains that "we have an opportunity here to really step out of the box. Word will travel very quickly which we expect will lead to approaches from farmers and smaller landowners who may be unsure of the best way to proceed with trees they already have on their own land. Done properly this could prove a win-win situation for all concerned; local people with direct jobs in tourism and plantation management; increased tourist revenue for the region; and of course increased business for the Thai sales department of Asia Plantation Capital".