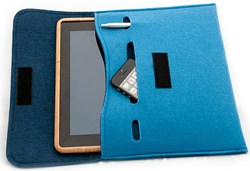 Salt Lake City, Utah (PRWEB) November 07, 2013
10Terra today announced Ultra Blue is now available on Amazon. Ultra Blue is a felt sleeve designed for the Apple iPad Air. It also fits iPad generations 4, 3, 2, and 1.
Ultra Blue is surprisingly light at 4.6 ounces. Made using traditional sewing techniques and from quality felt crafted from recycled water and soda bottles Ultra Blue provides a stylish yet functional compliment to your iPad.
10Terra's 70% off coupon code is valid between 11/7 and 11/10. Take advantage of this offer by entering the promotion code BLUEFELT during checkout.
About 10Terra.com
10Terra.com was established in 2012 with the goal to provide best-in-class cases for mobile gear. They specialize in smartphone and tablet covers and cases that are stylish and eco-friendly. A privately-owned enterprise, the company is based in Salt Lake City and has customers worldwide.