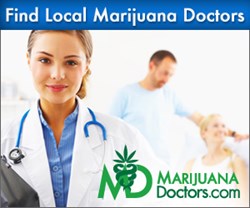 (PRWEB) November 07, 2013
The Certification Station is a medical marijuana healthcare center that features locations in West Bloomfield and Detroit, Michigan. These alternative healthcare locations have distinguished themselves as primary providers of medical marijuana certifications throughout the state of Michigan and the Michigan Medical Marihuana Program. As go-to portals for patients to obtain a legally-recognized medical cannabis recommendation, the Certification Station remains unrivaled in terms of patient satisfaction. With the announcement coming that this facility has added two locations to the MarijuanaDoctors network of cannaphysicians, this will do a great service for inquiring Michigan marijuana patients who are in great need of an alternative doctor.
By way of a licensed medical practitioner who has been authorized to recommend the medically-inclined use of cannabis, patients whose suffer from a chronic or debilitating condition are able to achieve the wellness that once flourished and was maintained. These alternative healthcare locations in West Bloomfield and Detroit specialize specifically in the alternative aspect of health services such as those of medical marijuana evaluations, medical marijuana recommendations and legitimately legal medical marijuana certifications.
The Certification Station also boasts an in-house team of compassionate members that are made readily available to address any patients' questions or concerns that may be presented in regards to this up-and-coming form of treatment and the processes leading up to it. Please note that each staff member is trained substantially in assisting any patients through the processes of filing and submitting the appropriate documentation to successfully obtain a Michigan medical marijuana card through the state registry program.
Although the Certification Station features locations in West Bloomfield, it does not mean that this location is only featuring its extensive services in an exclusive manner to one geographic location. The Certification Station in West Bloomfield extends its services to the surrounding towns and communities of Orchard Lake, North Farmington, Sylvan Lake, Franklin, Pontiac, Commerce, Wolverine Lake and Quakertown, and the location in Detroit extends its services to those of Hamtramck, Highland Park, River Rouge, Grosse Point Park, Dearborn and Melvindale.
The name says it all with these facilities, garnering recognition as some of the state's most popular locations for legitimate and state-recognized medical marijuana recommendations. The Certification Station vows to serve Michigan with a continued sense of compassion and professionalism, seeking to become Michigan's household name for cannabis certifications.