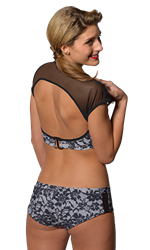 We believe it's our body that doesn't fit into the swimsuit we want to wear, instead of realizing it is the bathing suit that doesn't fit our bodies.
Galveston, TX (PRWEB) November 12, 2013
As the holidays approach, women across the US are starting to worry about putting on holiday pounds - pounds they will toil to burn off during February's annual beach body fitness hype. All this in the name of feeling comfortable in a woman's swimsuit. Yet, before women start to worry about squeezing into a swimsuit they'll never feel fully comfortable wearing, maybe they should ask whether it is the swimsuit or the body that is the problem. The size or shape of a woman doesn't determine if a person looks beautiful in a swimsuit, as both Sara Jessica Parker and Queen Latifah show. These women have more than an innate beauty in common; they both discovered the true secret to beauty – inner confidence.
"When I walk out on the beach wearing a well fit swimsuit I get a boost of confidence. The compliments I get are proof enough - I am right; I am beautiful," states Melody, mom and Fluid Sunwear Made-to-Measure client. "I am worth more than a size, and I deserve to feel good about myself, regardless of what anyone says my shape should be," she continues.
Sometimes women need a boost, a visual reminder of how beautiful they are. What a woman wears on her body can be the nudge she needs to feel amazing that day. Just as Stacey London, What Not To Wear Host, stated, referring to garments cut properly for a woman's body, "All we had to do was put you in the right clothes and all of a sudden you get your body." (What Not To Wear, S11, E1)
Fluid Sunwear took on the challenge of fit, coverage, beauty and sex appeal by reinventing the basic swimsuit to fit all women from every size and shape by creating the made-to-measure swimsuit.
"As women ourselves, we know how daunting it can be to squeeze into a swimsuit. We craft Made-to-Measure swimwear in an effort to win the battle of feeling inadequate; something hindering over 65% of US women when looking for a suit that flatters their body (ShopSmart, 2011). Our goal is to liberate women to say, 'my suit doesn't own me, I OWN my suit,'" clarifies Ellis Dixon Designer at Fluid Sunwear.
"I bought a swimsuit on the premise I needed to lose weight to look amazing in it. When I lost the weight, I excitedly put on the suit and, to my dismay, still had the same issues. However, my mindset was not about how the bathing suit didn't fit my body, I actually thought I needed to lose more weight to wear the suit,'" confesses Megan Turnbow, CEO and Founder of Fluid Sunwear. "Women stand on this slippery slope every day. We believe it's our body that doesn't fit into the swimsuit we want to wear, instead of realizing it is the bathing suit that doesn't fit our bodies."
Turnbow continues by stating that this is not a big girl, skinny girl problem. Everyone has different hip heights, waist heights, breast sizes - even within the same size range. "I've seen women with the same body measurements, but with a 6 inch height difference. Although they are the same size, they cannot wear the same swimsuit confidently, until now."
Fluid Sunwear knows physical shape often deters women from purchasing clothing in fear of losing, or gaining, weight tomorrow. However, wearing a swimsuit made for a specific body offers the wearer breathing room to fluctuate in weight due to the natural give of the fabric, but it does this without showing every change the body goes through, unlike other types of swimwear. "It's not about losing weight to fit into your swimsuit anymore, it's about wearing clothing cut to fit your body, and feeling the confidence it provides," reiterates Dixon.
For more information please visit: http://www.fluidsunwear.com/studio-e.
For a video about Fluid Sunwear: http://www.fluidsunwear.com/FluidVision
About Fluid Sunwear
Established in 2013, Fluid Sunwear is a clothing line specializing in women's made-to-measure luxury swimwear and ready-to-wear designer sunwear. Fluid creates tailored, luxury swimwear for every woman, offering the opportunity to feel confident and beautiful, even when bearing it all. Fluid Sunwear's new line is sold online and via mobile web at http://fluidsunwear.com/. If located within the Houston, TX metro area, Fluid staff members are available for in-person fittings by appointment only. Simply email info(at)fluidsunwear(dot)com for scheduling details. For more information, contact Fluid Sunwear via e-mail at info(at)fluidsunwear(dot)com or telephone number: 409.974.7017.