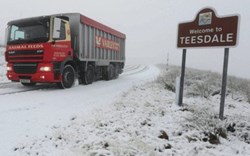 Experts suggest that this winter could be the worst for years!
(PRWEB UK) 7 November 2013
There have been mixed forecasts for this winter; some forecasters have predicted a severe cold and snowy winter following a good summer, and others are predicting a wet and mild winter.
Believers of the old signs of a hard winter may well be expecting cold and snowy conditions. With holly bushes laden with fruit and the largest crops of acorns and beach mast seen for years, all the signs of nature are pointing in the direction of a hard winter.
And already snow has started to fall in the UK. As a covering of early snow lands in County Durham (Express.co.uk 6th November), the phones start to ring at rock salt supplier http://www.rocksaltshop.co.uk.
"I'm not one for predicting winter conditions, but I have to say that all the signs are suggesting a cold one," says Ben Jackson, Director at the Rock Salt Shop. "And with this early snow flurry in the north this week, we are worried that companies could get caught out without sufficient stocks of de-icing supplies."
Rock Salt Shop supplies homes and businesses throughout the UK with a full range of de-icing supplies, from salt to snow shovels and even snow ploughs.