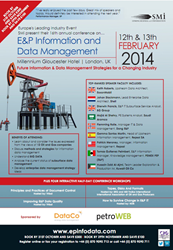 London, UK (PRWEB UK) 7 November 2013
SMi Group announces the launch of Industry Wide Survey for E&P Information and Data Management and invites industry professionals to take part in it. https://www.surveymonkey.com/s/NGNBQCL
The survey has been launched to identify the most important challenges that Oil & Gas companies face when managing E&P Information, and with the purpose of preparing for the 16th Annual E&P Information and Data Management Conference taking place in London on the 12th-13th of February 2014.
The survey consists of 10 questions and will take less than 5 minutes to complete. All respondents will be put in the prize draw for 1 free pass to the conference. All other respondents will receive 10% discount to participate in this industry leading events. The results will be published in December 2013 on the conference's website
The closing date for the survey is November, 29, 2013. To take part in this survey, go to https://www.surveymonkey.com/s/NGNBQCL
E&P Information and Data Management - 2014 will provide attendees with a complete update of the industry as it stands today. Focusing on data governance and ownership, cloud computing, knowledge transfers, data formats, big data and standards, this informative conference will bring together key oil and gas companies to deliver presentations based on their experiences, problems and solutions.
Confirmed speakers include:

Flemming Rolle, Manager Information and Application Systems, DONG E&P Norge
Jill Lewis, Chair, Technical Standards Committee, SEG and MD Troika International, Society of Exploration Geophysicists (SEG)
Sherwin Francis, E&P IT Subsurface Service Analyst, BG Group
Johan Stockmann, Lead Enterprise Data Architect, Technical & Competitive IT, Shell Global Solutions International BV
Patrick Meroney, Manager, Information Management, Repsol Houston
Majid Al Shehry, PE Systems Analyst, Saudi Aramco
Hussain Zaid Al-Ajmi, Team Leader Exploration & Production IM, Kuwait Oil Company
David Lloyd, IS Programme Manager, GDF SUEZ E&P UK Ltd
Paul Richter, G&G project Database engineer, ICT, ENI Petroleum and many others
Benefits of attending:

Learn about and consider the issues expressed from the views of 12 oil and gas companies
Discuss methods and strategies for information data management
Understand BIG DATA
Analyse the current status of subsurface data management
Develop enterprise data management strategy ideas
Scrutinise the developments around data governance and standards
Hear recent case studies on Petrel data management
Examine the implications of knowledge transfer issues 4 interactive half-day conference workshops:
A) Principles and Practices of Document Control, hosted by Negel Loadman, Senior Information Management Advisor, Tribal
B) Tapes, Disks and Formats, hosted by Jill Lewis, Chair, Technical Standards Committee, SEG and MD Troika
C) How to Survive change in E&P, hosted by Richard Grant, Senior Consultant, Partner, and Ed Evans, Senior Consultant, CEO, NDB
D) Improving E&P Data Quality, hosted by Dr. Paul Duller, PhD, Consultancy Director, Tribal
For more information about this event and how to register, contact Andrew Gibbons via agibbons(at)smi-online(dot)co.uk or call on +44 (0) 207 827 6156.
For sponsorship opportunities contact Alia Malick, Director, via amalick(at)smi-online(dot)co.uk or call +44(0) 207 827 6168.
Event's website: http://www.smi-online.co.uk/2014eandp8.asp
Contact for media-partners: Julia Rotar, jrotar(at)smi-online(dot)co.uk, +44 (0) 20 7827 6088.
About SMi Group
Established since 1993, the SMi Group is a global event-production company that specializes in Business-to-Business Conferences, Workshops, Masterclasses and online Communities. We create and deliver events in the Defence, Security, Energy, Utilities, Finance and Pharmaceutical industries.
We pride ourselves on having access to the world's most forward thinking opinion leaders and visionaries, allowing us to bring our communities together to Learn, Engage, Share and Network. We hold events in over 30 major cities throughout the world including London, Paris and Singapore and to date have welcomed over 200,000 participants from 80 countries.
For more information, please visit http://www.smi-online.co.uk