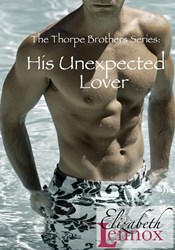 I loved your new book and cannot wait for the next installment of The Thorpe Brothers! -- CL, Virginia
Washington, D.C. (PRWEB) November 19, 2013
With Elizabeth Lennox's signature style of strong, handsome, powerful men and beautiful, smart, uncompromising women, readers will enjoy His Unexpected Lover, the second book in The Thorpe Brothers series. The first book in the series, His Captive Lover, went on sale October 11, 2013. Since that time, it has been one of Ms. Lennox's top sellers and a favorite among fans, rated 4.8/5 on Amazon. One of her reviewers writes, "A wonderful love story with all the right ingredients! Elizabeth Lennox has done it again. I can't wait to read the next in the Thorpe brothers series."
The story of Axel Thorpe and Kiera Ward began years before. Their eyes first met across a crowded Georgetown bar, and an unexpected magnetism kept them locked together. There with her friends, Kiera never expected the handsome, debonair man to be attracted to her, but Axel had eyes for no other. With common interests, goals, and an intense physical charisma, they quickly fell in love. But a careless and perhaps misunderstood proposal by Axel drove a wedge between them. What had been a passionate and promising relationship for Kiera shattered into painful betrayal.
Now, six years later, Kiera is working for Axel's brother, Ash, at The Thorpe Group. No longer just a promising young student, she has become a sought-after attorney – a rising star. There's only one problem: can she stand being in such close proximity to Axel Thorpe?
His Unexpected Lover is available on Amazon, Apple, Kobo, Barnes & Noble, and Google Play on November 20, 2013 (pre-orders available on most sites). Learn more, or subscribe to the mailing list for free e-books at ElizabethLennox.com.
About the Author:
With over fifty romance e-books, a free novella – The Sheik's Dangerous Lover, and short character introduction stories that she sends to her 10,000+ website subscribers each month, Elizabeth Lennox has become a leading independent romance e-book author. Although she wanted to be a romance novelist since the eighth grade, that dream only became a full-time reality in 2012. Along the way, she received a BA in History and worked in the real estate, government consulting, and financial industries. All during that time, though, she was always writing. She loves to travel and uses her experiences on trips across the United States, Europe, and the Caribbean as backdrops for her stories.
Elizabeth lives in Virginia – just outside Washington, D.C. – with her husband and two children. Many of her stories are set in the nation's capital.
She loves hearing from and corresponding with readers, whether via Facebook, Twitter, her recently redesigned website, or via email at Elizabeth(at)elizabethlennox(dot)com.