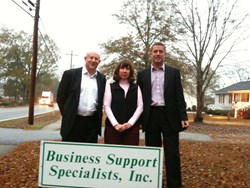 Try Suntico connected to your own data for free.
Prosperity, South Carolina (PRWEB) November 08, 2013
A long time supporter of Suntico, Business Support Specialists CEO, Marlene Spurgin, quickly recognized the benefits of Suntico, both to her own business as a Sage solution provider and certified consultant, and to her customers.
Suntico provides a Facebook-style interface for managing and socializing the key issues that face small business owners, including collections management, customer relationships and internal teamwork. What's more, it links seamlessly to Sage 50 and is easily accessible through any smart phone or tablet. This mobility is what initially attracted Marlene Spurgin to Suntico.
Marlene says: "A lot of my customers have been using Sage accounting software for years, they want mobile access to their records when they're out of the office, but they don't have the resources, either financial, time or technical, to move to a cloud solution. With Suntico they have the best of both worlds – they get to keep their Sage software in the office, but now have access to it 24/7."
Marlene adds, "I am in the process of building a business network with other Sage Certified Consultants so that we can provide a broader service across a wider geographical area. Suntico will also help me to do this with their Suntico Advisor Network concept".
Hugh Johnson, SVP Business Development at Suntico says: "For 25 years, Marlene has been utilizing computer technology to bring her customers to a level of efficiency necessary to succeed in today's market. That is exactly what Suntico is about – using the latest technologies to make us more efficient. We are delighted to have Marlene on board and are looking forward to a long and successful working relationship, bringing Prosperity to all involved."
If you are a Sage 50 consultant or customer, you can try Suntico free of charge. The folks at Suntico will even connect you up to your own data as part of the free trial.
Watch a short video in which Marlene talks to Hugh Johnson about how her customers' needs have changed over the last few years.