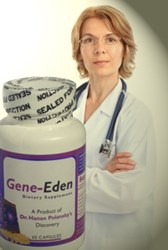 Latent viruses like EBV can still produce cancer causing proteins. - Mike Evans, polyDNA
Rochester, NY (PRWEB) November 09, 2013
Many studies now show that individuals infected with the Epstein Barr Virus (EBV) have a higher chance of developing cancer. A review of recent medical literature shows that EBV is actually the primary risk factor for a head and neck cancer called nasopharyngeal cancer (NPC) (1). A study published on August 28th, 2013 in the journal Cancer Letters, said that "A consistent elevation in EBV antibody titers (a sign of an EBV infection) is a well-established risk factor for the development of NPC (2)."
The "Epstein-Barr virus, frequently referred to as EBV, is a member of the herpesvirus family and one of the most common human viruses. The virus occurs worldwide, and most people become infected with EBV sometime during their lives (3)." This is according to the CDC website on a page last updated on May 16, 2006.
Because almost everyone is infected with EBV, significant numbers of people have a higher risk of developing NPC. In fact, a study published in 2011 in the journal Global Cancer Statistics said that "Overall, head and neck cancer accounts for more than 550,000 cases annually worldwide (4)."
Many studies also show that common factors help the virus in causing NPC. "Indeed, studies on EBV and its associated tumors have suggested specific interactions between environmental, genetic, and viral factors. Among them, latent membrane protein (LMP) 1, a primary EBV-encoded oncogene, may be a central player in both the initiation and progression of NPC (2)."
In other words, a protein generated by the Epstein Barr Virus, while it is latent, could be a main factor in causing nasopharyngeal cancer.
"Latent viruses like EBV can still produce cancer causing proteins. Therefore, individuals need to protect themselves against an EBV infection. We recommend Gene-Eden-VIR, an antiviral natural product, which is effective against latent EBV." – Mike Evans, polyDNA
Gene-Eden-VIR is a natural EBV remedy proven in a clinical study to reduce symptoms associated with a chronic EBV infection (5). A recent post marketing clinical study published in the peer reviewed, medical journal Pharmacology & Pharmacy, in a special edition on Advances in Antiviral Drugs on August 12, 2013 showed that Gene-Eden-VIR is safe and effective (5).
Each ingredient of Gene-Eden-VIR was chosen through a scientific approach. Scientists scanned thousands of scientific and medical papers published in various medical and scientific journals around the world to identify the safest, most effective natural ingredients that target the latent form of herpes (5).
To learn more about Gene-Eden-VIR and the Epstein Barr Virus, visit http://gene-eden-kill-virus.com/EBV.php. All orders of Gene-Eden-VIR are completely confidential, and no information is shared or sold to any third party. Privacy is assured.
Reference:
(1) http://www.uptodate.com/contents/epidemiology-and-risk-factors-for-head-and-neck-cancer
(2) http://www.ncbi.nlm.nih.gov/pubmed/23689138
(3) http://www.cdc.gov/ncidod/diseases/ebv.htm
(4) http://www.ncbi.nlm.nih.gov/pubmed?term=21296855
(5) http://www.scirp.org/journal/PaperInformation.aspx?PaperID=36101
polyDNA is a biotechnology company that develops dietary supplements using the unique scientific method developed by Dr. Hanan Polansky, which is based on Computer Intuition.
In addition to his unique scientific method, Dr. Polansky published the highly acclaimed scientific discovery, called Microcompetition with Foreign DNA. The discovery explains how foreign DNA fragments, and specifically, DNA of latent viruses, cause most major diseases.
polyDNA developed Gene-Eden-VIR, an antiviral natural remedy that helps the immune system kill latent viruses.