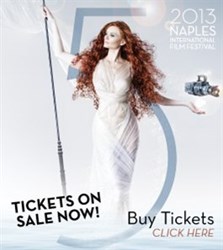 Benseron is privileged to be supporting such an extraordinary event.
(PRWEB) November 07, 2013
Benseron, a leader in POS systems for restaurants, has become an Elite Sponsor for the 5th Annual Naples International Film Festival, running November 7-10, 2013. Benseron, established in 2004, in Naples, FL., has become a maverick in the POS industry and has challenged and pushed the envelope for what is to be expected, not unlike the establishment and growth of the Naples International Film Festival. Benseron's CEO, Onur Haytac said, "It is the most thought-provoking, motivating, and inspiring, long weekend in Naples."
The Naples International Film Festival has quickly landed among the leading film festivals in the U.S. and is one of the premier events of the season for Southwest Florida. Benseron understands what a privilege it is to be a sponsor of the Naples International Film Festival, and is proud to support this like-minded organization, that continuously strives to out do themselves, recruits local talent, understands the value of strong community relationships and are making waves in their respective industry because of their unrelenting commitment to progress.
"Leading by example drives our daily decisions and giving back to the community in such a significant way is an honor and a privilege. It supports the community, our employees, our customers and our customer's customers," said Benseron's CEO, Onur Haytac.
The Naples International Film Festival began in 2009 and immediately established it's footing as a premier festival with the opening nights film, "The Cove." The Cove went on to win an Academy Award as the Best Documentary of 2010. The years following have showed strong continuous growth and a following among directors as one of the best festivals to attend as a filmmaker. The 2013 Festival focus is "first-time" filmmakers and is hosting 25 outstanding narrative and documentary film features, directors, actors and throngs of indie film followers. The Naples International Film Festival's Opening Night will be held on Thursday, November 7th at Artis—Naples. Tickets to opening night are available at http://www.artisnaples.org. Competition films will screen Friday, November 8th - Sunday, November 10th at Silverspot Cinema at Mercato in Naples. Tickets to films are available at http://www.silverspotcinema.com.
Benseron is a direct manufacturer, that designs hybrid software platforms and applications, including BevoPOS, that streamline restaurant and retail operations helping customers cut costs and improve efficiency. Today Benseron is revolutionizing what can be offered. Intuitive understanding of the restaurant business and the ability to convert that understanding into technological intelligence has set Benseron apart. For more information please visit http://www.benseron.com or call 866-620-2785.