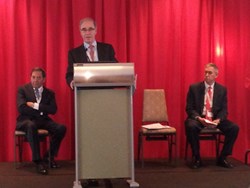 "Building a maritime 'silk road' between the U.S. and China"--Sara P. Sandford
Washington D.C. (PRWEB) November 07, 2013
Thirty four years after he played a key role in the beginning of ocean trade between China and the United States, attorney Stanley Barer had a reunion with his long-term colleague Capt. Qian Yongchang, former Minister of Communications and the first chairman of China Ocean Shipping Company (COSCO), now the president of the China Communications and Transportation Association. The reunion took place at the American Society of Transportation and Logistics (ASTL) annual Sino-American Logistics Conference, which was held in Chicago last week.
At the conference, it was announced Captain Qian and Mr. Barer will serve as the honorary chairmen of the newly created Sino-American Logistics Council. The Sino-American Logistics Council (SALC) will help to move forward collaborative issues that increase bilateral business opportunities in transportation and logistics infrastructure. SALC will be involved in other related initiatives, including lessening environmental impact of the supply chain and the reduction of vehicle emissions.
Both Captain Qian and Stan Barer were highly influential in the early establishment of trade relations between China and the United States after a thirty year hiatus. It is often said Nixon and Kissinger opened China, but for over three decades, Stan Barer, of the law firm Garvey Schubert Barer, is widely considered to be at the center of developing business links between the United States and China.
Barer is the legal strategist who paved the way for U.S. cargo vessels to sail to Shanghai in May 1979, and later brought the Chinese vessel Liu Linhai to Seattle.
The public reunion between Stan Barer and Captain Qian is a highly symbolic gesturing of new developments taking place in Sino-American trade relations, where there is a new focus on America's Midwest region.
The Mississippi and China's Yangtze River have a lot in common. Both serve as main arteries of commerce for their countries and both represent cultural touchstones. The infrastructure that is in place in the Midwest region of the U.S. serves as a model for logistics and transportation that can be replicated in many inland regions of China. The United States has many companies who can provide American expertise and technology to support logistics and transportation implementation and growth in China.
Captain Qian said, "Wuhan, which is located in central China and has always been a national transportation hub, is facilitating cooperation with Chicago, and is trying to use Chicago's experience to transform and upgrade the construction from a comprehensive transportation hub, to a logistics center, and to build a national logistics central area."
The conference, attended by business leaders from China and the U.S., focused on efforts to create bilateral cooperation between logistics professionals in the U.S. and China. The U.S. has the most advanced system of freight transportation and cargo handling in the world today. The conference considered how U.S. companies can provide management expertise, best practices and technology to promote the sustainable growth of China's freight transportation and logistics infrastructure, particularly in the burgeoning population of the cities along China's Yangtze River.
The American Society of Transportation and Logistics (ASTL) and ASTL-China : Dual Track Sino-American Logistics Conference and Yangtze Mississippi Rivers Forum is supported by the U.S. Department of Transportation and U.S. Department of Commerce, Ministry of Transport of China, Ministry of Commerce of China, the U.S. Embassy in China, and the Chinese Embassy in the United States. The conference features corporate CEOs, U.S. government officials, and Chinese representatives as they explore the future of trade relations, logistics, and continue the ongoing Yangtze-Mississippi Rivers discussions. For information, please see http://www.astl.org.
About Garvey Schubert Barer
Garvey Schubert Barer is a business law firm representing established market leaders, newly launched enterprises and governmental entities, nationally and internationally with a special focus on the Pacific Rim. Since 2004 Garvey Schubert Barer has had a representative office in Beijing reinforcing their longstanding commitment to Pacific Rim trade and China. The office enhances their ability to provide additional resources and deliver a higher level of service to Chinese and U.S. clients. Today, the Beijing office serves U.S. companies doing business in China and, in collaboration with the firm-wide International Practice Group (IPG), provides legal representation to Chinese companies in all aspects of doing business in the United States. Garvey Schubert Barer's influence in China goes back long before 2004. For over thirty years, Stan Barer has been a pioneer and instrumental in opening up US trade with China. Garvey Schubert Barer's attorneys in the IPG are knowledgeable about the emerging Chinese business environment and its close connection with China's immediate and longer term needs and plans to turn from export driven growth to development of its domestic economy. The firm has offices in Seattle, Portland, Anchorage, Washington, D.C., New York and Beijing. For more information, please see http://www.gsblaw.com.