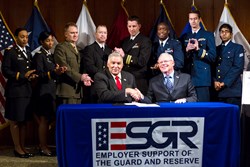 Our focus on the military community makes employees with military experience especially valuable in serving our membership.
San Antonio, Texas (PRWEB) November 08, 2013
Employer Support of the Guard and Reserve (ESGR), a Defense Department office, announced retired Army Maj. Gen. Josue "Joe" Robles, USAA President and Chief Executive Officer, will sign a Statement of Support for the Guard and Reserve on November 7, 2013. Robles will reaffirm USAA's commitment to hire and support Guard and Reserve employees during a signing ceremony at the USAA corporate offices in San Antonio, Texas. He will be joined by ESGR National Chair Paul E. Mock.
The Statement of Support, originally signed by USAA in 2005, confirms USAA joins other employers in pledging:

We fully recognize, honor and enforce the Uniformed Services Employment and Re-Employment Rights Act (USERRA).
Our managers and supervisors will have the tools they need to effectively manage those employees who serve in the Guard and Reserve.
We appreciate the values, leadership and unique skills service members bring to the workforce and will encourage opportunities to hire Guardsmen, reservists and veterans.
We will continually recognize and support our country's service members and their families in peace, in crises and in war.
"Supportive employers like USAA are critical to maintaining the readiness and strength of the nation's Guard and Reserve units and allow Guardsmen and Reservists the opportunity to serve our country more effectively and with greater peace of mind," said Mock. "By signing this Statement of Support, USAA sends a clear message they stand committed to their military employees and recognize the integrity, global perspective and proven leadership they bring to the workplace."
"Our focus on the military community makes employees with military experience especially valuable in serving our membership," said Robles. "We're proud to reaffirm our commitment to them as we renew our promise to stand beside them and ensure they have the support and tools they need to be focused on their mission when called to active duty.
"We all need to do what we can to hire veterans," he said. "Just as America invests in its servicemen and women, our nation's executives should invest in the veterans they hire through coaching, building networks with other veterans and establishing career development opportunities. It's been our experience at USAA that making these investments pays off with employees who are dedicated, disciplined and leaders at heart."
Since 2005, USAA has hired more than 7,800 veterans and military spouses in support of the association's long-standing goal that one in four new hires come from those ranks. Earlier this year, USAA announced it had increased that goal to 30 percent, understanding that military experience is a preferred qualification and essential in providing best-in-class service to USAA members and the military community.
About 250 USAA employees actively serve in the National Guard or Reserve.
USAA is a long time supporter of ESGR principles and a 2005 Secretary of Defense Freedom Award winner, the highest recognition given by the U.S. government to employers for their outstanding support of employees serving in the Guard and Reserve.
About USAA
USAA provides insurance, banking, investment and retirement products and services to 9.9 million members of the U.S. military and their families. Known for its legendary commitment to its members, USAA is consistently recognized for outstanding service, employee well-being and financial strength. USAA membership is open to all who are serving or have honorably served our nation in the U.S. military, and their eligible family members. For more information about USAA, or to learn more about membership, visit usaa.com.
About ESGR
Employer Support of the Guard and Reserve is a Department of Defense Office established in 1972 to develop and maintain employer support for Guard and Reserve service. ESGR advocates relevant initiatives, recognizes outstanding support, increases awareness of applicable laws, and resolves conflict between service members and employers. Paramount to ESGR's mission is encouraging the employment of Guardsmen and Reservists who bring integrity, global perspective and proven leadership to the civilian workforce.
More information about ESGR Employer Outreach is available at http://www.ESGR.mil or by contacting Tom Bullock, Chief, Employer Outreach, at (571) 372-0709, or by email at tom.bullock(at)osd.mil.