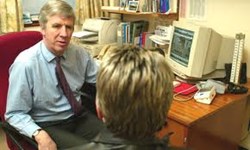 When you've only got around 10 minutes with each patient, it's vital that you ask the right questions.
Bolton, UK (PRWEB UK) 13 November 2013
As reported by the BBC, it is believed, that a new computer program will be able to assist busy GPs, in spotting patients who might have cancer(1). With the potential to help decrease incidents of cancer misdiagnosis, the computer program could improve standards of patient care.
According to the BBC, the computer program estimates the risks associated with five types of cancer, including those harder to detect such as – ovarian and pancreatic cancer. In practice, the patient will explain their symptoms to their GP, and if cancer is a possible diagnosis the program will suggest further tests (1).
Practices in both England and Wales have tested the 'Cancer Decision Support Programme,' in a pilot scheme partially funded by the department of health. It is believed, that should it be successful, the programme will be rolled out across the UK from as early as next year (1).
Dr Rosie Loftus, lead GP adviser at Macmillan Cancer Support, the charity behind the work, described the advantages of the programme as follows (1) –
"GPs have a vital role to play in ensuring that cancer is diagnosed at an early stage to give people the best possible chance of survival.
"When you've only got around 10 minutes with each patient, it's vital that you ask the right questions and are able to quickly calculate someone's risk in order to facilitate an early referral."
The system is designed to complement the GP's existing knowledge and training, best utilised alongside their notes, providing supplementary information (1).
Considering the new software, Asons Executive, Laura Williams –
"This programme represents a progression in cancer diagnosis. At Asons Solicitors, we see incidents of GP negligence which have led to a cancer misdiagnosis claim being made. This software could safeguard GPs against overlooking a symptom, improving the level of patient care provided. "
It is hoped, that the computer program will increase awareness for hard-to-detect cancers, in turn, lowering incidents of misdiagnosis, such as ovarian cancer misdiagnosis. "In the event that someone has been subject to GP Negligence, they must seek legal advice as quickly as possible. Taking action can prevent the same situation from reoccurring, helping others to avoid injury in future."
Those who have suffered from cancer misdiagnosis may be able to make a clinical negligence claim for cancer misdiagnosis compensation. Asons Solicitors deal with NHS compensation claims on a regular basis, they can be contacted on: 0844 850 1062 or via their medical claim form at asons.co.uk.
-Sources-
(1) BBC News, Computer software helps GPs spot cancer, (05/11/2013) bbc.co.uk/news/health-24802437
-ENDS -
About Asons Solicitors:
Asons Solicitors is a Bolton-based law practice that specialises in personal injury and industrial disease claims. Founded by brothers Imran Akram and Kamran Akram, Asons Solicitors has developed to become a young and dynamic law firm that delivers practical solutions to clients in times of difficulty. Their continued focus on their staff has seen them awarded with the Investors in People "Gold Award"; which is reflected in the professional and personable approach they take in working with clients. They strive to grow and to develop, and their supportiveness and attention to detail ensures that their clients use them time and again.