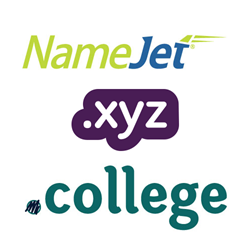 "We're excited to be taking a leading role in the release of these high quality generic top level domains," Matt Overman,General Manager, NameJet
Kirkland, WA (PRWEB) November 08, 2013
As leaders in innovating the domain name space, NameJet and XYZ.COM have partnered to offer some of the very first new generic top-level domains (gTLDs) to the public this month. These never before released domain names are being offered by the new Top Level Domain Registry XYZ.COM LLC, in a groundbreaking advanced auction format prior to the release of the TLD to the open market in 2014. Forty premium .XYZ and .COLLEGE domain names will be offered in this first-of-its-kind advance auction, demonstrating how NameJet and the XYZ.COM Registry together are leading the way in the new gTLD marketplace. In an advance auction, the highest bidder purchases an option to acquire the domain at the winning price, taking possession of the domain when it becomes available at the registry.
"The mission of .XYZ and .COLLEGE is to bring choice, accessibility, and above all, innovation to the Internet. This is one of the many unprecedented ways we will be creating opportunities for people to acquire the domain name they have always wanted," said XYZ.COM Founder,Daniel Negari. "We have a longstanding relationship with NameJet and are thrilled to be working exclusively with their organization to bring .XYZ and .COLLEGE to the market."
As more gTLDs become available, individuals and organizations will have more choices for developing their brand and improving their customer user experience on the Internet. There will be new opportunities to claim keyword rich domains that have not been available in the .COM space for nearly 20 years. Below is a sample of the exclusive domain names being offered during these advance auctions:
loans.college
scholarships.college
vacations.xyz
insurancequotes.xyz
students.college
jobs.college
auctions.xyz
health.xyz
The first of the advance auctions begin on November 6th, 2013, and the last of the 40 domains will be auctioned by February 28th, 2014. "We're excited to be taking a leading role in the release of these high quality generic top level domain names. NameJet is proud to be on the cutting edge of this major change to the Internet, enabling businesses and offering investors with the opportunity to acquire some fantastic names," said Matt Overman, General Manager of NameJet.
In addition to offering these advanced auctions for the registry, NameJet will also oversee both the Sunrise and Landrush auctions for the .XYZ and .COLLEGE launches.
About NameJet:
NameJet is a joint venture between Demand Media, Inc. (NYSE: DMD) and Web.com Group, Inc. (Nasdaq: WWWW), who each own two of four leading ICANN-accredited registrars (eNom, Name.com, Network Solutions and Register.com). Launched in 2007, with core auction software and technical infrastructure operating since 2004, NameJet serves domain investors, Fortune 500 companies and their representatives, small- and medium-sized businesses, as well as a diverse and global mix of individual investors. It has processed over 200,000 domain auctions, establishing itself as a trustworthy and transparent auction platform that is customer-focused and user-friendly.
About XYZ.COM LLC
XYZ.COM LLC is led by Founder Daniel Negari, a visionary Internet entrepreneur with years of experience in the domain name space. Located in Las Vegas and Beverly Hills, XYZ.COM is a registry operator that is bringing new unrestricted domain extensions, including .xyz, .COLLEGE and .Now to the internet.
XYZ.COM is currently accepting preregistration requests for .xyz and .college domain names at XYZ.COM and XYZ.COM/college. Both unrestricted extensions will be available for registration in 2014. Institutions and trademark holders will have the opportunity to register their .xyz and .College domain names in the sunrise periods, followed by advanced registration with no trademark requirements. The final registration period will be treated on a first-come-first-served basis to the general public.