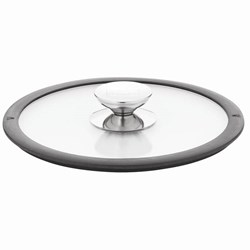 Quality Does Not Happen... Quality is Made. Quality making the difference since 1921 - Berndes
Lima, OH (PRWEB) November 08, 2013
Berndes offers a wide variety of durable tempererd glass lids. The NEW Silicone lids are constructed of tempered glass accented by the signature stainless steel knob and silicone rim for a tight fit but also include a vent for steam release. There are a variety of lid sizes that will fit not only your Berndes cookware, but other cookware you have as well. The tempered glass and silicone lid is a beautiful compliment to our latest release of Berndes Cookware lines such as the SignoCast Pearl, Vario-Click Pearl and Vario-Click Nonstick. Extend the life of your Cookware by avoiding damages created by chips or nicks.
Berndes Temperred Glass and Silicone lids are available with white or black silicone rim. Sizes range from fitting 6, 8, 9.5, and 11-inch cooking vessels.
For more information regarding availability of Berndes Accessories, please visit our website http://www.berndes-cookware.com.
About Berndes
Berndes has developed, produced and distributed cookware since 1921 and is the largest pan manufacturer in Germany, as well as the world-marketing leader in nonstick coating cookware made of cast aluminum. The high quality, award-winning range made of cast aluminum, spun aluminum and stainless steel is exported worldwide and has been distributed through qualified channels for decades.
With a marketing strategy that focuses on people with an affinity for cooking and appeals to the emotions, Berndes is set for success. As has always been the case, production is carried out at the company headquarters in Arnsberg, Germany. These processes only use materials that do not affect the environment, resources or health. The in-house test laboratory conducts continual quality controls accompanying production. Neutral test institutions both attest the company's high quality standards repeatedly domestically and abroad.