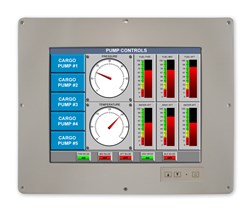 The addition of this fully qualified 15" HMI is the launching pad for a new line of sealed, rugged computer displays designed for the harshest of environments, including 901 Grade-A Shock," Said Keith Vreeleand, Business DevelopmentManager at Comark.
Medfield, MA (PRWEB) November 10, 2013
The 15" HMI is a sealed and fanless computer display unit developed for DDG 51 Machinery Control Applications. As with all Comark products, this new 15" HMI is designed with the latest technology, including current Core i5 processors, an LED backlit display, a rugged IR touchscreen, and integrated speaker. Manufactured in the USA, the 15" HMI uses long lifespan components to ensure multi-year availability for sustainability in all Navy applications. Video excerpts of shock test are available on YouTube.