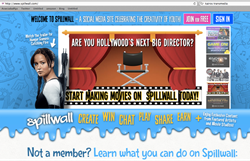 Transmedia is a new model for children entertainment and education.
(PRWEB) November 07, 2013
Kairos Transmedia, Inc. (Kairos) announced today that it has passed the one million customer mark and is raising $1 million with leading crowd-funding platform, Fundable.com. Kairos Transmedia delivers age-appropriate and educational programming and content via classrooms, interactive online content, and traditional print materials. The consumer-driven social media company distributes, develops, creates, and aggregates content to youth via its wholly owned subsidiaries; The Director's Cut, The Magazine, and Spillwall.com, a social media network platform.
Kairos Transmedia reached its expansion milestone of more than a million customers in Canada, and is now embarking on its next phase of expansion into the US market. They hope to use their popular model -- successful with the Canadian population of 30 million and expand to the 300 million viewers and readers that make up the US market. To fuel the opportunity at hand, Kairos Transmedia has launched a fundraising effort on Fundable.com and are looking for strategic partners in growth.
Kairos Transmedia CEO Bill Stuart commented, "We have already established operations in Florida, educating youth with our common core curriculum using experiential computer and media literacy. We are experts in common core curriculum development and delivery, which is currently adopted by 48 out of the 50 states within the US. We have one million readers and are embedded in 500 schools in Canada teaching over 100,000 kids and are looking forward to a successful US launch."
Fundable COO Elliot Schneier affirmed, "We very much like the Kairos Transmedia business plan, their direction, and the traction they are experiencing. We view them not only a promising customer but a strategic resource to our other youth- centric portfolio companies." Kairos, with its established and loyal customer-base can help cross promote and position those company's services and goods to over one million potential customers in the youth consumer market sector.
Visit http://www.fundable.com/kairos-transmedia to learn about Kairos Transmedia and inquirer investment opportunities.
About Kairos Transmedia, Inc.
Kairos Transmedia, Inc. (KTI) is a new breed edutainment company serving the 8 to 18 year old market with safe, monitored, and age-appropriate content developed by in-house professionals, media and studios, as well as user-generated content. The company is built to encourage children's creativity and give them multiple interactive outlets to showcase, celebrate, and be rewarded for their creativity. KTI offers compelling content, common core curriculum, and creative outlets through several branches. These include The Magazine, social media site Spillwall.com and The Director's Cut. The company believes it will create significant enterprise value for its stakeholders, growing its current business units which are youth-centric media delivery companies and utilizing transmedia to leverage this content across its platforms and media assets.
Read more at http://www.fundable.com/kairos-transmedia.
Watch (video) here: http://www.youtube.com/watch?feature=player_embedded&v=fEqnXdcSbhw
About Fundable
Fundable is a crowdfunding platform for startup businesses, offering both rewards and equity funding options. Founded by veteran entrepreneurs, Fundable seeks to empower startups by providing access to early stage growth capital.