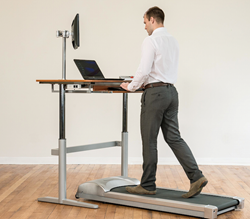 Sitting all day will take a toll on you, even if you exercise. We all have to work, but we don't have to let work kill us.
Washington D.C (PRWEB) November 08, 2013
Rebel Desk, a healthy workspace solutions company, is changing the way that people work. Wanting to give people more alternatives to sitting in a chair all day, Rebel Desk created a treadmill desk that is affordable, easy to use, and attractive. Rebel Desk's first public debut of its gleaming treadmill desks will be at the American Diabetes Association Pittsburgh Expo on November 9, 2013. The Expo is a free event being held during American Diabetes Month and it includes health screenings, cooking demonstrations, and talks from leading experts on diabetes management and prevention.
Nearly 29 million Americans have been diagnosed with diabetes, and another 79 million are estimated to be pre-diabetic. Those affected by diabetes know how important it is to live an active lifestyle. Inactivity wreaks havoc on the body, including worsening the body's ability to process glucose and fats, which can lead to weight gain. Interestingly, since 1980, obesity rates doubled in the U.S., even though the amount of time spent exercising remained steady. What has changed since 1980 is an 8% increase in the amount of time spent sitting. Those affected by diabetes know the importance of activity and maintaining a healthy weight, but many struggle to do so when their jobs require them to sit at a desk.
"Sitting all day will take a toll on you, even if you exercise. We all have to work, but we don't have to let work kill us," says Kathleen Hale, Rebel Desk CEO. "With a treadmill desk you can make your desk job benefit you. You can walk slowly while getting stuff done. You'll feel energized, focused, and more productive." The benefits of walking are well documented, and a treadmill desk allows you to get those benefits without having to make time with a busy schedule. Rebel Desk also was designed to blend in with its surroundings, whether a home, private office, or shared workspace. "You don't want to look like you took your exercise treadmill and stuck it in your office." says Hale. Rebel Desk has been busy fulfilling orders since its launch in October.
The American Diabetes Association Expo will be the first public event where people could try out the Rebel treadmill desk and take a stroll (no faster than 2 mph) for themselves. Most importantly, the company wants to show others that it's not hard to use a treadmill desk, and that you are able to complete most tasks while walking. Over the next few months, Rebel Desk will display at other health and fitness expos throughout the country so more folks can learn about the benefits of walking and working. Visit http://www.rebeldesk.com for product details.
About Rebel Desk:
Rebel Desk (URL: http://rebeldesk.com) is a Washington, DC-based company that sells treadmill desks, adjustable height desks, and desk accessories so people can stand and walk while they work. Prolonged sitting can be as bad for your health as smoking, but Rebel Desk makes it easy to avoid sitting all day. Walking and standing while working can boost productivity, improve health, and increase energy. Rebel Desk products offer all the benefits of active working without compromising quality, style, or function. With every product it makes, Rebel Desk aspires to transform the workspace into a gateway for well-being, health, and success.