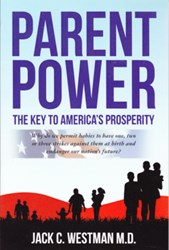 Madison, Wisconsin (PRWEB) December 03, 2013
The new book Parent Power: The Key to America's Prosperity by Dr. Jack Westman, Professor Emeritus of Psychiatry at the University of Wisconsin School of Medicine and Public Health, calls attention to the following facts:

Americans have the lowest life expectancy among all competitor nations.
Americans are at least two times more likely to be murdered and four times more likely to be incarcerated than any other competitor country.
The United States shows the greatest disparity between rich and poor among all competitor nations.
The United States is at the top of the list of competitor nations for child abuse and neglect and at the bottom for academic achievement.
Fully one-third of children and adolescents in the United States are not doing well. Over 11 million have been seriously damaged by neglect and/or abuse. Almost one-quarter of state and almost one half of county expenditures are devoted to struggling families and their adult progeny. The immaturity, school failures, addictions, crime, and welfare dependency that underlie this tax burden for all Americans are largely preventable if all parents had the ability and resources to effectively raise their children.
From the point of view of America's economic well-being, the unpaid career of parenthood is more important than paid jobs:
1) Without parenthood, there will be no citizens;
2) Without competent parents, our nation won't have competent citizens and workers; and
3) Without competent citizens and workers, our nation's economy won't prosper.
The web site http://www.americasparentpower contains a blog dedicated to bringing together parents, grandparents, professionals, and other citizens with an interest in increasing awareness of the fact that parenthood is its foundation. The blog especially welcomes those who see the need for creating a national organization for all parents similar to the American Association of Retired Persons.