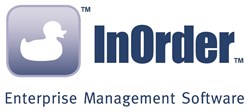 Dover, NH (PRWEB) November 12, 2013
Morse Data Corporation, developer of InOrder Enterprise Resource Planning (ERP) software, has announced a new feature for InOrder users. This feature "reserves" a specified quantity of stock for particular customer types, making it unavailable to other customer types.
This new feature is available for dimensioned items, non dimensioned items, orders placed on the web, and orders placed through Customer Service.
For example, a single wholesale or consignment customer could easily deplete stock levels, meaning multiple retail orders go on backorder. This new functionality allows a specified quantity of stock to always be reserved for retail customers, which is not available to wholesale customers. Any line items ordered by retail customers are allocated, but orders for other customer types without this setting can only allocate from stock levels above the reserve thresholds.
"This is a completely different animal from our multi-warehouse, lot tracking, serial number tracking, and hold access code features," says Tony Marchese, VP for Morse Data. It enable clients to reserve stock for their "me-now" customers, and hides it from the bulk customers with deeper discounts and higher return rates. It also supports reserving stock from consignment transfers."
About Morse Data Corporation
In business since 1975 and headquartered in Dover, NH, with technical offices in Orland Park, IL, Morse Data Corporation offers InOrder, a real-time, tightly integrated, single database ERP system for multi-channel merchants, Internet retailers, publishers, and fulfillment solutions providers. The company is a certified Microsoft Small Business Specialist. To schedule a demonstration, call 1-888-667-7332 or visit http://www.getinorder.com.