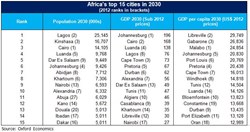 (PRWEB) November 08, 2013
Economic growth across the African continent is set to surpass that of any other region of the world including Asia and Latin America between now and 2030, and Africa's dynamic urban centers will become engines propelling this rapid expansion, according to a series of new continent-wide projections produced by Oxford Economics.
In a new report, "Bright Continent: The future of Africa's opportunity cities," Oxford calculates that unprecedented urbanization, combined with rapid and sustained economic growth and a rising population, will turn African cities into the last great frontier for consumer marketers. Today, Africa's major cities account for almost 36 per cent of Africa's total output, or about $700 billion. By 2030, Oxford forecasts, the GDP of these cities will more than double, to reach $1.7 trillion.
Africa will growth faster than Asia or Latin America during the next two decades, and double the rate of Europe and North America, Oxford projects. The continent will also urbanize more rapidly even than Asia. By 2030 an additional 300 million people will flood into Africa's "consumption cities" and "total spending power in these cities will balloon from $420 million to $1 trillion, making this the world's last mass market consumer frontier," said Adrian Cooper, CEO of Oxford Economics.
While more mature cities such as Johannesburg and Cairo will see their consumer spending power approximately double by 2030, offering the largest absolute increase, less-known cities such as Luanda and Huambo in Angola, and Abuja, Nigeria will see their aggregate spending power grow three to five times larger.
The study represents the first output from Oxford new African Cities Income and Consumer Spending Forecasting Service, which cover 96 cities and spans 43 countries across the continent. The service office regularly updated annual forecasts for key demographic, economic, industry, household income distribution, and consumer spending variables.
As part of this study, Oxford has developed a new segmentation analysis of the region's booming cities, to better understand the changing industrial structure of the continent's major metropolitan regions and how they are likely to transform in the years ahead.
For example the study separates Africa' metropolitan regions into four segments:

Volume opportunity cities where exploding populations will create dramatic new opportunities for an emerging middle class, primarily purchasing low-cost items and essentials.
Expanding mid-market cities where rapid population growth combined with high per capita spending power offer massive potential for the higher-value consumer good spending.
Mature mid-market cities, whose increasingly affluent but relatively stable populations will demonstrate a growing appetite for branded and luxury consumer items.
Stable essential cities, where relatively gradual population growth will limit growth in aggregate consumer spending power between now and 2030.
The Oxford projections forecast that 51 of 96 African cities will experience population growth of more than 50% by 2030. Lagos will more than double in size to over 25 million people, becoming the continent's biggest city. (See chart)
The results of the study are available from Oxford Economics. The Executive Summary is available from http://www.oxfordeconomics.com/africa.
About Oxford Economics
Oxford Economics is one of the world's foremost independent global advisory firms, providing reports, forecasts, thought leadership and analytical tools that cover some 190 countries, 100 industrial sectors and over 2,600 cities. Founded in 1981 with its headquarters in Oxford, England and with regional centers in London, New York, and Singapore, Oxford Economics uses its team of professional economists, industry experts and editorial specialists to advise corporate, financial and government decision-makers and develop evidence-based thought leadership. Its worldwide client base now comprises over 700 international organizations, including leading multinational companies and financial institutions; key government bodies and trade associations; and top universities, consultancies, and think tanks.