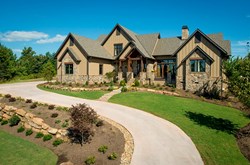 Currahee Club in Toccoa Georgia
Atlanta, Georgia (PRWEB) November 07, 2013
Currahee Club, selected by Southern Living as the neighborhood for the 2013 Custom Builder Showcase Home, highlights mountain living at its finest! Searching for that dream home in a Northern Georgia mountain community has never felt so good.
Be inspired. Friday through Sunday from September 27 through December 22, visitors are invited to tour through a Dillard-Jones Builders custom built home at Currahee Club. The remarkable one-third acre property features a view of the Quarry Hole on a Rolex World's Top 1,000 Golf Course of 2013. Admission to tour the 2013 Southern Living Custom Builder Showcase Home is only $10, with proceeds benefitting the Neighbors 4 Neighbors of Stephens County and the Food 2 Kids Program of the Food Bank of Northeast Georgia.
Discover the luxuries this Lake Hartwell neighborhood has to offer while learning the advantages of a home custom built to suite its homeowners needs. The award-winning services of Dillard-Jones Builders provide environmentally friendly construction techniques among quality service in the construction of a Currahee Club custom home.
Currahee Club on Lake Hartwell is also presenting a Featured Artists Series with exhibits and opportunities to meet several award-winning North Georgia artists including Autumn Strickland, Joan Hilliard, Ann Alexander, Betty Wansley, Rosemary Dodd, Lana Mitchell and Jane Hemmer. The series is being held at Currahee Club with a 'Meet The Artist' event scheduled for Friday, November 15, from 6 pm until 8 pm in the Great Room of the Currahee Clubhouse.
The Featured Artists Series coincides with the Southern Living Custom Builder Showcase Home by Dillard-Jones Builders being held at Currahee Club through December 22. Those attending the home tour are invited to become a Currahee Member For A Day to play golf, tennis, dine in the Clubhouse and attend the Artist Events, according to Community Manager Anne Shurley.
'The work of several North Georgia artists is featured in the Southern Living Showcase Home at Currahee Club," Shurley said. "We're fortunate to have so many talented and award-winning artists in our area, and the Featured Artists Series allows us to exhibit additional works by the showcase home artists along with those of many others."
Inspired by the Blue Ridge Mountains and modeled after Southern Living, a custom built home in a Lake Hartwell neighborhood accentuates the spacious and charming lifestyle of a Northern Georgia mountain community. Large windows illuminate the high wooden ceilings within the home; pulling attention towards the magnificent space within the living room. A French inspired bathroom and large screened porch add flair to the impressive layout while maintaining the Southern charm.
The Currahee Club's Clubhouse hosts a variety of homeowner's events in its Great Lodge Room; furnished with chandeliers among leather sofas and a breathtaking view overlooking the Blue Ridge Mountains. Equally impressive is the Men's Locker Room complete with an Irish pub and Cigar Terrace. Currahee Club's most impressive feature is a 2013 Rolex Top 1,000 Golf Course designed by the eminent Jim Fazio. Other features of the new 5 acre Currahee Sports Club & Amenity Campus state-of-the-art facility include a swimming pool, fitness center, and community garden area.
Only a hop, skip and a jump away from endless Blue Ridge Mountain adventures, this Northern Georgia mountain community is the perfect place to take in the crisp air or hike through the great outdoors on Currahee's 1.5 mile Catawba Trail! Other community outdoor pursuits include fishing ponds, star gazing and fire pit gatherings, but many residents prefer a day on the green surrounded by stunning views of Lake Hartwell. The 7,500-yard Currahee Club golf course is recognized as a 2013 Rolex Top 1,000 Golf Course with two comfort-stations and various elevation changes for an awe-inspiring game. The best part about a Lake Hartwell neighborhood is its close-knit community and numerous outside events. Residents interested in activities such as kayaking, book-signing, and even zip-lining can attend nearby clubs and programs to expand their horizons.
The tranquil mountain lifestyle combined with endless activities among magnificent scenery is why Currahee Club was selected by Southern Living as the ideal neighborhood for the 2013 Custom Builder Showcase Home beautifully detailed and available at only $848,900. Indulge in the luxuries of a Currahee Club home and step out onto the veranda to bask in the endless beauty of the Blue Ridge Mountains.
About Real Estate Scorecard:
Real Estate Scorecard writes unbiased real estate reviews providing in-depth information about popular gated communities in Florida, Georgia, North Carolina, South Carolina and Tennessee, all in an effort to help people discover where to retire in the Southeast.
Website: http://realestatescorecard.com