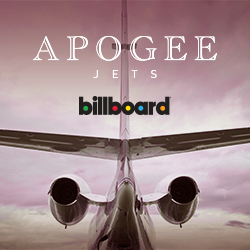 Apogee Jets is supporting a majority of the artists in the music-industry representing all genres of music globally.
New York, New York (PRWEB) November 07, 2013
Apogee Jets is pleased to announce that it has become a sponsor of the 10th annual Billboard Touring Conference and Awards to be held in New York City on November 13 and 14. The two-day conference will inform, educate and provide a forum for all touring-related businesses about the industry's latest opportunities and current challenges.
"The live music industry remains on a strong growth path, in large part due to the effort and creativity of the tours, artists, venues, events, executives and companies represented as finalists for the Billboard Touring Awards," says Billboard's Senior Writer Ray Waddell. "The Billboard Touring Awards has, over the past decade, been the true mark of achievement in the live music space."
Apogee Jets will be highlighted at the conference as a leading private jet provider for record labels, recording artist, touring companies, production companies, management companies, and top concert promoters within the recording industry. The company prides itself on safety, the quality of service, artist privacy, and seamless logistics, making a smooth travel schedule for artists as they travel on their world tours.
Private aviation represents an integral role and function in the live music tour space. Private jets are the only way a top artist can achieve a multi-city, multi-state and, in some instances, a multi-country same day schedule.
"Apogee Jets is supporting a majority of the artists in the music-industry representing all genres of music globally," said Kevin Parrott, President and CEO of Apogee Jets. "We not only are a premier private jet service, but we are proven and committed to aviation safety. We're excited to be sponsoring and attending Billboard's touring conference and awards. We're privileged to showcase the importance and necessity of our industry and the inclusion of our brand. The Billboard touring conference and awards allows us to meet and discuss with the top touring professionals and understand in real time the state of the touring industry."
Billboard will honor the music industry's top artists, venues, and professionals from the past year at the touring awards ceremony. Finalists include several leading industry artists such as Jay-Z, Justin Timberlake, The Rolling Stones, Bon Jovi, Taylor Swift, P!nk, One Direction, Jeff Dunham and Bruno Mars.
Other key awards include top festivals, like Coachella and Lollapalooza and top arena's including Barclays Center, Brooklyn and the O2 Arena in London. Additionally top promoters including Live Nation and AEG Live and top agencies including Creative Arts Agency, William Morris Endeavor Entertainment and Paradigm Agency will be among the list of finalist for the 2013 Billboard Touring Awards. Attendees of the conference interested in the services of Apogee Jets can contact info(at)apogeejets(dot)com.
About Billboard
Billboard is the world's most influential music brand reaching key executives and tastemakers in and around the music business through Billboard magazine, Billboard.biz, Billboard conferences, Billboard Bulletin, and other targeted newsletters; and millions of music fans through Billboard.com consumer events and awards shows, the mobile chart app, and social media extensions.
About Apogee Jets
Since inception, Apogee Jets has been poised and will remain a luxury boutique style provider of private aircraft with limited client base. We focus principally on the recording industry, concentrating on live music tours worldwide. Apogee Jets understands and accommodates live music tour travel budgets providing maximum financial vitality for concert organizers and management booking companies. As well we provide artist and corporate record label flight support. Our pointed model and bespoke offering allows Apogee Jets recording industry clients' principle and substitute aircraft providing lift for artist as well as cargo support. For more information about Apogee Jets, visit: http://www.apogeejets.com.