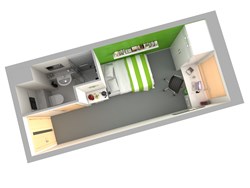 Guaranteed 9% Return Per Annum for at least 5 years
Liverpool, UK (PRWEB UK) 8 November 2013
With no sign of any increases in interest rates for savers, and with inflation starting to move upwards anyone with cash savings should reconsider their position. Cash investors could become losers as holding cash becomes a risky business.
ECB President Draghi has even suggested that the EU Central Bank could in principle go further to stimulate spending by charging lenders to hold reserves in the ECB (i.e. a negative deposit rate).
There are however some other excellent opportunities out there. The property market is starting to move and a great way to start building a property portfolio from savings would be to look at university student accommodation. There is a shortage of supply and there are opportunities for the private sector to satisfy demand.
A number of developments are now underway which offer guaranteed returns of 9% per annum for at least the first 5 years and with prices starting at £54,995 it means that it is not beyond the reach of even quite modest investors.
One development in Liverpool has already sold 245 units in October and only has 39 left as shrewd investors grab the opportunity such an investment represents.
So now may be a good time to review your investments and savings and see what could be achieved. Whilst cash may still be king for many businesses for investors it is time to look at something else.