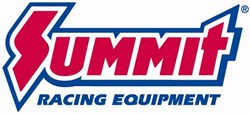 Tallmadge, OH (PRWEB) November 08, 2013
Whether it's a few brackets or major fabrication, Summit Racing has the Strong Hand Tools an enthusiast needs to weld better and get professional results.
Buildpro Welding Tables
Strong Hand Tools BuildPro Welding Tables have a flexible, modular design that makes it easy to set up fixtures for any welding or fabrication project. That saves time and effort. The tables feature a four-beam support base with a precision-ground steel plate table top that has 57 CNC-machined holes and 1.75 inch spacing between the plates for optimum versatility and access. The tables are supported by heavy-duty, powdercoated steel legs with self-leveling feet. Your choice of 24, 30, and 36 inch tall tables in 47 and 72 inch lengths.
Nomad Economy Welding Tables
Ideal for on-site and home-garage use, Strong Hand Tools Nomad Economy Welding Tables have two lower casters to make the tables easy to move around. Retractable guide rails on two sides can be used as fences, guides, stops, or clamping edges. They feature three 1.1 inch slots in the tabletop for use with clamps. The tables can also be adjusted from 26 to 32 inches in height and in one of three positions—horizontal, 30 degree, and folded. The Nomad Economy Welding Tables are 30 inches long and 20 inches wide.
4-in-1 Utility Clamps
These Strong Hand Tools 4-IN-1 Utility Clamps serve four different functions. They work like a traditional C-clamp, but have a sliding arm that makes adjustments fast and easy. When you need to spread a work piece apart, the spring-loaded stop lets you remove and reverse the arm. The 4-IN-1 clamps also have a tapped hole for the included V-pad or an extender block. Strong Hand Tools 4-IN-1 utility clamps are available in multiple sizes, throat depths, and clamping pressures.
3-axis Welders Clamps
These 3-Axis Welders Angle Clamps are designed to hold a 3-axis work piece in position before welding. The cast iron clamps feature quick-acting threaded screws that slide in and out with the push of a button. The unique swing-away arm makes it easy to remove the third axis arm to position or remove the work piece. The Strong Hand Tools 3-Axis Welders Angle clamps can also be used to hold parts in position during cool-down to minimize distortion due to contraction. Available with a 4.80 or 5.32 inch long jaw.
Summit Racing also carries a large selection of Strong Hand Tools welding magnets and squares, blocks and clamps, locking pliers, and complete modular fixture kits.
Summit Racing Equipment
http://www.SummitRacing.com
1-800-230-3030