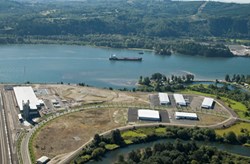 Port of Kalama invites bids on Kalama Rail Expansion.
Kalama, WA (PRWEB) November 08, 2013
Notice is hereby given that the Port of Kalama will be receiving sealed bids at the Port Office, 380 West Marine Drive, Kalama, Washington 98625 until 10:00 a.m., December 06, 2013 at which time the bids will be publicly opened and read for the Kalama Rail Expansion – North Extension project.
A mandatory Pre-Bid meeting will be held at 10:00 a.m. on November 15, 2013 at the Port of Kalama Offices (380 W. Marine Drive, Kalama, WA 98625). Bid packets containing plans, specifications, proposal, contract, bond, and detailed instructions to bidders may be downloaded from http://www.portofkalama.com under About the Port / News and Notices.
Each bid must be accompanied by a certified check or bid bond in an amount equal to five percent (5%) of the proposal. The successful bidder will be required to furnish a performance bond with surety acceptable to the PORT OF KALAMA, for 100 percent (100%) of the contract price.
All contractors MUST comply with the prevailing wage and anti-discrimination laws of the State of Washington, and pay all associated fees. The PORT OF KALAMA will comply with the statutory retainage requirements for public works contracts. The PORT OF KALAMA is an equal opportunity employer.
Bids may NOT be withdrawn or canceled by the bidder for a period of sixty (60) days following the bid opening.
For further information contact:
Jacobo Salan
Economic Development Manager
Port of Kalama
jsalan (at) portofkalama (dot) com
The PORT OF KALAMA reserves the right to reject or accept any and all proposals and to waive informalities and minor irregularities in bids received which it deems to be in the best interest of the Port.