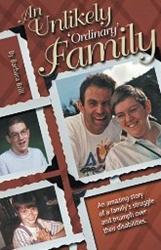 "An Unlikely 'Ordinary' Family imparts candid knowledge about attitude, compassion and laughter- finding a sense of accomplishment in what was, what is and what can be," said Brill
Baltimore, MD (PRWEB) November 19, 2013
In Barbara Brill's book titled "An Unlikely 'Ordinary' Family", she shares her personal story of what she and her family have overcome. A family of four, each having either a physical or mental disability, triumph over life's challenges.
Brill entertains readers as her personal story of encouragement unfolds, urging people to grab life and make it work no matter what the circumstances. As an individual with a disability, Brill wants the reader to understand that every life has value and purpose.
At one point in time it was not unusual to hide or institutionalize an individual with a disability. Barbara and Michael Brill however, made it a point to give their two adopted disabled children an adventurous and joy-filled life.