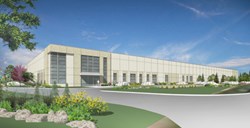 We are proud to be moving forward with Federal's growth plan and making a significant investment in the greater Milwaukee metropolitan area and supporting local job growth.
Milwaukee, WI (PRWEB) November 07, 2013
Due to expanding sales and the need for additional manufacturing and office space, Federal Mfg.'s parent company Pro Mach is making a multimillion-dollar investment in a new facility for Federal. A groundbreaking ceremony for the new 78,000-square-foot building will be held on Tuesday, November 12 at 11:00am at the RidgeView Corporate Park, Pewaukee, Wisconsin. The building will be completed during the summer of 2014.
For the past 65 years, Federal has been designing and manufacturing liquid filling and capping machines for the dairy, juice, specialty drink, chemical, coatings, and pharmaceutical industries from their offices in Milwaukee. The company is the largest supplier of dairy filling equipment in the U.S. and one of the largest in the world. Federal anticipates increasing headcount by 10% over the next eighteen months.
"It is bittersweet to be leaving our facility here in the Walker's Point neighborhood," said Frank Johanek, Vice President and General Manager, Federal Mfg. "We simply need more space to accommodate national and international sales growth - a state-of-the-art space that supports 21st century manufacturing technology and practices. We're pleased that we're staying close to the area and community where it all started for us."
Federal Mfg. was acquired in 2012 by Pro Mach, one of the largest integrated packaging machinery companies in the United States. Based near Cincinnati, Pro Mach has a portfolio of over 20 leading packaging equipment brands. An important part of Pro Mach's growth strategy is acquiring well-run companies and making additional investments to help those companies continue to expand in the highly competitive global market for packaging machinery.
"One of the things we identified during our early discussions with Federal was that the business needed more and newer space for manufacturing," said Mark Anderson, President and CEO of Pro Mach. "We are proud to be moving forward with Federal's growth plan and making a significant investment in the greater Milwaukee metropolitan area and supporting local job growth."
Roughly 85 percent of the building will be utilized for manufacturing with the remaining 15 percent designated as office space. Kevin Barry, from Cassidy Turley Barry, Milwaukee, is responsible for brokering the deal and also handling real estate matters. Design and construction services are being provided respectively by Eppstein Uhen Architects, Milwaukee, and Berghammer Construction Corporation, Butler, Wisconsin. Interstate Partners LLC, Waukesha, Wisconsin, and Zilber Property Group, Milwaukee, are the site developers. The Oberhofer Group, Milwaukee, has been retained by Federal to coordinate the relocation.
For more information about Federal's sanitary, rugged, and long-lived filling and capping solutions, call 414-384-3200 and visit http://www.FederalMfg.com.
About Federal
Durable, reliable, and hygienic designs have been the hallmarks of Federal fillers and cappers since 1948. To meet the strict demands of today's consumer, Federal has developed filling systems that further protect the quality, freshness, and flavor of products without compromising the core machine characteristics customers have come to expect in terms of operations and productivity. http://www.federalmfg.com
About Pro Mach
Pro Mach is a leading provider of integrated packaging products and solutions for food, beverage, household goods, pharmaceutical, and other diverse consumer and industrial companies. Through multiple business units and related brands, Pro Mach provides equipment, installation, training, parts, and service in primary and secondary packaging, flexible packaging, end-of-line packaging, material handling, and identification and tracking.
Pro Mach has a diverse customer base, from Fortune 500 companies to smaller, privately-held businesses worldwide, which depend on reliable, flexible, technologically advanced packaging equipment and integrated solution sets. Pro Mach is headquartered near Cincinnati, Ohio, with manufacturing facilities and offices throughout the United States and Canada. http://www.ProMachInc.com