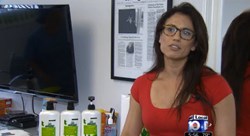 Lice Troopers battles head Lice with an all-natural approach!
Miami, FL (PRWEB) November 07, 2013
Lice Troopers in Bal Harbour has an all-natural cure to fight head lice. No longer do the chemicals work to kill and eradicate head lice according to Jennie Harel. Yahoo health also featured an article on April 12, 2013, on the new super lice that have grown resistant to the chemicals.
Most Lice have become resistant to most over-the-counter products, making it tough to get rid of them.
"It was just hours and hours of a big mess and I thought I got it and a couple of days later, I was checking their head, making sure everything was okay, and I noticed the bug," said Tamara Ullman, whose kids had lice.
Treatment at the Lice Troopers Clinic involves the use of an all-natural conditioner, which contains an enzyme that breaks apart the glue spread by the mother bug that makes her eggs stick to the hair.
"We saturate the hair with the product and the bugs can't run around, so while we extract by combing all the eggs, we're able to pull out everything," said Jennie Harel, owner of Lice Troopers.
The conditioner treatment is followed up with a dose of baking soda.
"For all those tiny, little eggs that are still left in the hair, it kind of thickens the hair and it allows the comb to get them," according to Harel.
The whole process takes up to two hours, and kids are able to return to school an hour later.