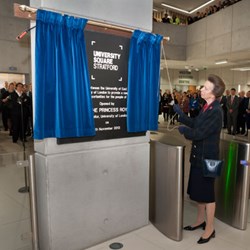 The facilities at the new campus are excellent and I am delighted to be among the first group of students to use them. - Birkbeck student Martine King
(PRWEB UK) 8 November 2013
Her Royal Highness The Princess Royal, Chancellor of the University of London, officially opened University Square Stratford – a £33m state-of-the-art campus in east London – on Tuesday 5 November. More than 300 dignitaries, donors, academics, and leading figures from local businesses, cultural organisations and councils attended the event.
University Square Stratford, situated at the heart of Stratford's cultural quarter, is a unique collaboration between the University of East London (UEL) and Birkbeck, University of London. The two distinct universities both aim to widen access and encourage progression into higher education for non-traditional students. The campus offers an alternative model of higher education, with flexible part- and full-time, day and evening study opportunities to meet the growing aspirations of the people of east London.
Professor John Joughin, Vice-Chancellor of UEL, said: "University Square Stratford is truly transformational. It is already encouraging access and progression into higher education and better meeting the growing aspirations of the people of east London, who are now able to enhance their employment prospects by gaining university qualifications and learning new skills. In a sense part of that transformation of London is all around us – quite simply the east of London is becoming the centre of London."
The Master of Birkbeck, Professor David Latchman CBE, said: "190 years on [since Birkbeck was founded], people, governments and others have accepted the importance of widening participation and lifelong learning. The challenge for Birkbeck is to continue to be innovative, continue to do things in the tradition of George Birkbeck and that is why we started to think a few years ago about coming to east London. It became very clear as soon as we started to think about it that UEL was the key educational institution here and we could do nothing else but collaborate with UEL. We have had a magnificent relationship with them, teaching in their premises until this magnificent new building is open, and now working jointly with that building."
UEL student Baanji Muteto, from Manor Park in Newham, is studying for a BA Honours in Urban Dance Practice at University Square Stratford, and performed a dance routine with other students at the opening event. He said: "Performing in front of HRH Princess Royal was a massive privilege and a great experience. We performed a dance piece that fuses house dance music and contemporary dance techniques. "
Birkbeck student Martine King, from Essex, is studying for a Certificate of Higher Education in Legal Methods at University Square Stratford. She said: "The facilities at the new campus are excellent and I am delighted to be among the first group of students to use them. Bringing education to Stratford and east London is so important. I would not have been able to study in central London because it is too far from my home."
Designed by Make architects and built by contractor VolkerFitzpatrick in association with AWW architects, the five-floor campus comprises 8,600 square metres of flexible teaching and performance space, as well as academic and administrative offices, orientated around a large, light-filled atrium. A range of student support services is on offer, including English language and academic learning support, specialist education advice and guidance, disability support and a student centre and helpdesk.
The building is a prime example of the latest technology and sustainable building design. Its features include more than 700 square metres of solar panels, rooftop habitats to increase biodiversity, three rooftop bat boxes, rainwater harvesting, and a garden at ground level. The Building Research Establishment Environmental Assessment Method (BREEAM) rating is excellent – the second highest category.
Notes to editors
For more information please contact Guy Collender, Birkbeck, University of London on 020 7380 3108 or at g(dot)collender(at)bbk(dot)ac(dot)uk or Mary Rahman, University of East London on 020 8223 2062 or at m(dot)rahman20(at)uel(dot)ac(dot)uk .
About UEL:
The University of East London (UEL) is a global learning community with over 28,000 students from over 120 countries world-wide. Our vision is to achieve recognition, both nationally and internationally, as a successful and inclusive regional university proud of its diversity, committed to new modes of learning which focus on students and enhance their employability, and renowned for our contribution to social, cultural and economic development, especially through our research and scholarship. We have a strong track-record in widening participation and working with industry.
http://www.uel.ac.uk
About Birkbeck, University of London:
Birkbeck was founded in 1823 by Dr George Birkbeck, who started a revolution in London's education system by establishing a college specifically for working people. Part of the University of London, Birkbeck is a world-class research and teaching institution and London's only specialist provider of evening higher education, making the very best university education accessible to non-traditional students. Over 18,000 students from diverse social and educational backgrounds participate in a broad range of higher education opportunities at Birkbeck.
Birkbeck ranks among the top 1% research-intensive universities in the world, according to the 2012 Times Higher Education World University Rankings. With over 90 per cent of academics research-active, the College is a vibrant centre of academic engagement and excellence. The College has consistently ranked number one in London in the National Student Survey.
http://www.bbk.ac.uk
About Make
Make is a studio of architects and designers committed to designing buildings, spaces and places which are as striking and innovative as they are socially, economically and environmentally responsible. Founded by Ken Shuttleworth in January 2004, the practice has already established itself as one of the UK's foremost architectural firms. Current projects range in scale from private houses, residential towers and office developments to sports facilities, hospitals and urban masterplans.
http://www.makearchitects.com
About AWW
AWW inspired environments is an architectural practice championing a collaborative approach to creating exceptional built environments. We are renowned for delivering beyond expectations, with our successes celebrated most recently, and consistently, by AJ100 'South West Practice of the Year' and 'Best Place to Work' awards in 2011, 2012 and 2013. This industry reputation is the result of the creativity, expertise and commitment of our team. AWW has 38 years of delivering inspired buildings, three UK offices in London, Bristol and Plymouth and we work across all sectors, both in the UK and internationally.
http://www.aww-uk.com
About VolkerFitzpatrick
VolkerFitzpatrick is a multi-disciplinary contractor with an annual turnover of c£400 million working in the civil engineering, building, rail, waste and energy infrastructure sectors. Founded in 1921 as Fitzpatrick Contractors the company has grown organically and now employs more than 600 people. VolkerFitzpatrick's success is based on ensuring it has a sound understanding of the client's vision, which is then delivered on time and to budget. VolkerFitzpatrick is part of VolkerWessels UK, a multi-disciplinary construction and civil engineering group with a turnover of circa £700 million. VolkerWessels UK employs more than 2,000 staff in six operating companies. The group is the UK arm of Dutch based VolkerWessels; one of the largest construction groups in Europe.
http://www.volkerfitzpatrick.co.uk