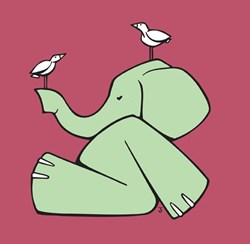 Denver, Colorado (PRWEB) November 08, 2013
Denver-based yoga clothing company, be present, launched its Fall Collection in early September. To supplement its fall line, be present will be rolling out a series of new items to further expand the company's current offerings to better meet consumer demands during the busiest shopping months of the year.
Among the first of be present's holiday product offerings is new elephant artwork created by Jeff Troldahl, the company's long-standing graphic artist and close friend. The new design features a seated elephant with two bird companions seated on its head and trunk. It will be available on select embroidered yoga pant styles for women and also screen printed on men's and women's tees. The screen printed version will also have the words 'be present' written underneath the design.
be present will follow up this release with a new women's tee style on which the new elephant artwork will be available. Called the "Perfect Fit Tee", this semi-fitted crewneck top will come in various colors and screen prints. It is blend of cotton and polyester, making for an ultra-soft feel.
The company is also bringing a new long sleeve tee into the mix just in time for the cold weather months. Already very popular, the Modal® Jersey Long Sleeve Tee will become available in hand-dyed ombre colors. The process sees each top dyed individually, making every one unique. Ombre color options include graphite fading into white and red fading into currant. The ultra-soft Modal® fabric is eco-friendly as it is made with fibers spun from sustainably harvested beech wood.
Available before year-end will also be a new seamless Racerback Tank as well as a new loose-fit, full length women's pant made from be present's proprietary woven fabric, Breathe Weave®. Details are forthcoming on these items. The company suggests subscribing to social media outlets and checking the website regularly for announcements.
New styles will be available for retail sale on the company's website as they are released, http://www.bepresent.com.
Wholesale orders are currently being taken for immediate and holiday delivery. be present suggests all wholesale inquiries be directed to wholesale(at)bepresent(dot)com.
About be present:
be present, clothing for the yoga lifestyle, was established in Colorado in 2002 by Amy Lopatin Dobrin and Jon Dobrin. All be present clothing is proudly made in the USA. The brand remains at the forefront of the yoga apparel industry, continually designing clothing that is original and functional.
For additional information, images and samples, please contact:
Maggie Mistovich
maggie(at)bepresent(dot)com
#303.228.4601