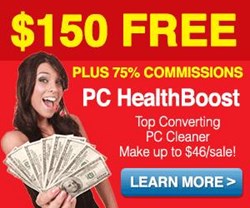 We have every reason to help you succeed. After all, we succeed when you succeed.
(PRWEB) November 07, 2013
Boost Software™ is pleased to announce another part of its training program for affiliates in the form of a "training mini-module". The module consists of an introduction to the main players of affiliate marketing, and an explanation of the six most important success factors for affiliates. The Boost Affiliates team published the "training mini-module" on the Boost Affiliates website in September from a guest poster at SearchItOn.com.
Affiliate marketing has come into the public consciousness in recent years as a good way to make money. But many try it out only to realize that making affiliate commissions not as easy as they were promised. Usually these promises come from someone who has a stake in "Selling the dream."
Boost Software™ recently opened its affiliate program to the public and has a vested interest in helping its affiliates succeed.
"We have every reason to help you succeed," said VP of Business Development Brock Bourne during a recent affiliate training webinar for Boost Affiliates. "After all, we succeed when you succeed."
The team at Boost Software™ is no stranger to affiliate marketing, also known as performance marketing. The company was founded by software super-affiliates Peter Dunbar and Amit Mehta. The two were frustrated at the lack of quality of most PC optimization software in the field.
They weren't driven only by the lack of quality offers, however. The two also despaired at the lack of customer support for available applications. Even the few high-quality applications seemed to have little or nothing to offer in the way of customer support.
Mehta and Dunbar felt that this lack of support was costing them four or five figures a year in affiliate commissions, due to refunds and chargebacks. The software offers 24/7 telephone and email support from native English speakers in the United States, Australia, and the UK.
The current refund rate for the company's flagship program, PC HealthBoost™, is currently less than 5%. Since most similar products bought online have a 10+% refund rate, Mehta and Dunbar feel that their software can save affiliates half of what they are losing in affiliate commissions with other applications.
The affiliate program for PC HealthBoost™ was opened to the general public in early September 2013. In less than four days, the software had become the most popular registry cleaner on the ClickBank affiliate network, and the network's sixth-most-popular software overall. Interested parties can view the training mini-module on the Boost Affiliates blog at http://boostaffiliates.com/blog, or learn more about the product at
http://pchealthboost.com.