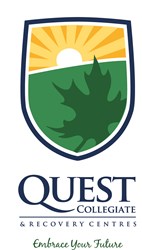 Parents are naive to think it could never happen to their child; statistics say otherwise. We are focused on recovery and relapse prevention.
Simcoe County, Ontario (PRWEB) November 15, 2013
Ontario Municipal and Federal leaders are rallying behind a major community project that supports teens recovering from substance abuse. A first for Canada, Quest Collegiate and Recovery Centres is a charitable organization working towards the launch of two recovery education campuses in Simcoe County for 2014.
"Our immediate goal is to raise awareness of substance use disorder among the province's high school population and the important role these centres will play in their recovery," said Founder, Eileen Shewen.
According to 2011 statistics by the Centre for Addiction and Mental Health (CAMH) about 13% of teens from grade 7 to 12 may have a drug use problem. This represents over 130,000 students across Ontario with no regional differences in abuse patterns. CAMH also reports 18% of teens, just over 175,000, report drinking at hazardous or harmful levels. Roughly 9,000 of these kids seek formal treatment every year.
Approximately 50% to 90% of teens who reintegrate into their former environment after treatment end up using again, creating a life-long cycle of treatment and relapse. "We are focused squarely on recovery and relapse prevention."
Based on US models, the Centre allows students to pursue their Ontario Secondary School diploma in a drug and alcohol free environment, away from negative peer influence and incorporates an active program of recovery into their daily curriculum. Program elements include onsite group therapy, family therapy, leadership development, self-help meetings with additional outside resources as needed.
"Substance abuse is not a phase that kids will outgrow," says Shewen, "It is a very real mental disorder that impacts teens throughout their entire lives. Parents are naïve to think that it will never happen to their child; the statistics say otherwise."
Quest will open their social media channels to answer questions about the project and the organization's mission, purpose, and goals. "We welcome Q&A because we want to dispel the misconceptions about kids in recovery and educate the public on the roles of addiction treatment and recovery education."
A November 28th fundraiser will be held at Tangle Creek in Barrie, Ontario attended by Simcoe County business leaders as well as Federal, Provincial, and Municipal leaders and elite athletes from across the region. For information on ticket sales and availability, contact Eileen Shewen at 705-262-7372, e-mail info(at)questcollegiate(dot)org, or #QuestCollegiateFundraiser.
-30-