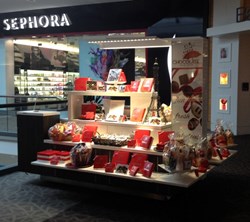 Norwalk, CT (PRWEB) November 07, 2013
Chocolate Rain Shop, a gourmet chocolate shop providing the Norwalk area with their handmade chocolate treats and gifts, is expanding their operation north with their new kiosk in the Westfield Trumbull Mall. More convenient than ever, mall shoppers can pick up chocolate treats for themselves or gifts for loved ones as they go along with their other shopping.
Chocolate Rain Shop has been serving their gourmet handmade chocolates in Norwalk for more than a year and has built up a cult following with the area's chocoholics.
The kiosk will be located on the second floor near the Sephora store, and they will also be selling their popular chocolate-covered caramel apples from their Trumbull location, but anyone looking for their larger products or renowned macaroons can visit their Norwalk location at 69 Wilton Ave. in Norwalk.
Store hours are 10 a.m. to 6 p.m. Monday, Tuesday and Saturday, 10 a.m. to 7 p.m. Wednesday through Friday, and 10 a.m. to 4 p.m. Sunday. Chocolate Rain Shop also offers English afternoon teas between noon and 4 p.m. Tuesday through Thursday, but advanced reservations are required for that. For more information, or to browse the online selection of products, visit http://www.chocolaterainshop.com.
Chocolate Rain Shop uses the finest chocolate, creamiest caramel, the best premium grade Granny Smith apples in their treats. Owners Diana & Helen pride themselves on their delicious chocolate confections and often cater to special occasions such as, weddings, birthdays, holiday celebrations like Halloween, Hanukah and Christmas. Often creating unique designs for their customers, Chocolate Rain Shop can be sure to accommodate whatever the customer may have in mind after a short phone call.
About the company:
Chocolate Rain Shop, located at 69 Wilton Ave, Norwalk, offers a wide variety of handmade chocolates, chocolate gift baskets, popular French Macrons, Petit Fours, pastries and cupcakes at their cozy shop where patrons are welcome to sit and enjoy a cup of gourmet hot chocolate or coffee. Call today at (203)295-4621.