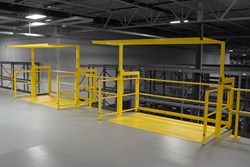 Sheffield Village, OH (PRWEB) November 09, 2013
Benko Products, Inc., a leading innovator in material handling and safety products, announces that its Protect-O-Gate Pivot Gate model is also available in double pallet width size. The pivot gate eliminates the potential for falls and other accidents associated with mezzanine loading areas. Counter-balanced and operator-friendly, the unit features easy access to the staging area.
Unsafe conventional devices such as chains, lift-out gates and sliding gates can all be bypassed, exposing workers to potential falls and injuries when left open. The Protect-O-Gate pivot gate cannot be bypassed. When the enclosure closest to the edge of the mezzanine is lifted to allow load delivery, the second enclosure is resting on the mezzanine, blocking personnel from potential falls.
Custom sizing can be easily accommodated with optional increased load height available to 80". The unit is shipped completely assembled. Simply bolt the unit to the mezzanine floor and it's ready to go.
For more information on the Protect-O-Gate Pivot Gate, contact Benko Products, Inc. at (440) 934-2180 or go to http://www.benkoproducts.com.
About Benko Products, Inc.
Benko Products, Inc. is a privately held company based out of Sheffield Village, OH. Benko Products was founded in 1983 by pioneer John Benko, the inventor of the Sahara Hot Box® drum warming oven. Benko's leading product lines also include industrial batch ovens; G-RAFF safety platforms; mezzanine safety gates and chemical storage systems. Benko is also the parent company to GREEN Access & Fall Protection, a leading manufacturer of gangways for tank trucks and rail cars as well as self-leveling stair applications.