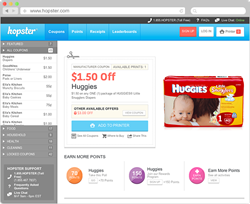 CPG Brands are now more than ever searching for ways to get to one-to-one relationships with their consumers.
Madison, Wisconsin (PRWEB) November 08, 2013
Hopster (http://www.hopster.com), the premiere digital experience that enables consumers to engage with leading brands and boost the value of their grocery coupons has launched a new digital platform dedicated to improving direct relationships between consumers and Consumer Package Goods (CPG) brands.
"CPG Brands are now more than ever searching for ways to get to one-to-one relationships with their consumers," says Brian Wiegand, CEO of Hopster, "With Hopster, brands are now able to identify consumers and gather purchase data at a household level. This allows brand marketers to generate efficient marketing strategies to drive repeat purchase, cross promotion and build loyalty."
Hopster.com is designed to create deeper relationships directly between consumers and brands. The upgraded digital platform marries brand presence, grocery coupons and engagements in a completely different way than any other coupon site.
At Hopster "boostable" grocery coupons are the draw—consumers earn points that can be used to increase or "boost" the value of their coupons. The more they interact with brands, the more they save, and the more relevant and personalized the experience becomes. The site also features higher-value Locked Coupons that can be unlocked when consumers complete multiple brand engagements and purchases.
For brands, a captive consumer set is encouraged to engage in activities that award points for sharing data. Hopster's closed loop redemption process puts digital advertising dollars to work to track performance and capture purchase behavior analytics. "For some brands we are seeing redemption rates as high as 65%," notes Wiegand. The engagement data, along with any purchase and redemption data is made available to brands to help them better understand, identify and connect with those consumers. These analytics help brands become deeper, more efficient direct marketers.
"Extending the interaction beyond what to buy or how to save creates real consumer-brand relationships. We set out to deliver a more viable exchange of value," adds Wiegand.
About Hopster:
Hopster, the digital experience that helps CPG brands convert coupons into relationships that drive consumer engagement, targeted trial, brand loyalty and advocacy. By closing the coupon redemption loop, Hopster helps CPG brands deliver targeted promotions to drive more meaningful, personalized relationships and more profitable shopping results. For consumers, Hopster is the premiere coupon site that allows you to get more value out of your coupons. By simply participating in activities you already do, you'll earn points that help you boost the value of your coupons. No other site allows you to rack in the savings like Hopster. Hopster was co-founded by a veteran team, including serial entrepreneur, Brian Wiegand, who has founded, brought to market and sold multiple companies. Hopster is headquartered in Madison, Wisconsin. Learn more at https://www.hopster.com/.