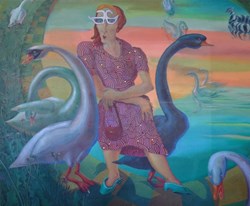 Living Well CEO and President Dr. Doris Bersing says, 'We like to celebrate old age and try to counteract ageism in our culture.'
Tiburon, CA (PRWEB) November 07, 2013
Living Well Assisted Living at Home has received a generous donation from Marianne Gontarz York, a clinical social worker and visual gerontologist. They have been given The Swan Lady, a multimedia art piece by Nancy Renfro to display at their headquarters in Tiburon, CA.
The Swan Lady (1991) is generally regarded as one of the best creations by the artist. It stands 60 feet by 72 feet and has been presented in numerous exhibitions at the national level. It was featured on the cover of the magazine Avanti in 1993 and was published as a poster in the same year. It depicts a sassy and outgoing elderly woman who does not have a problem showing what living well and being well means. She encourages elderly women to be colorful and to be themselves.
Living Well CEO and President Dr. Doris Bersing said, "We like to celebrate old age and try to counteract ageism in our culture."
Nancy Renfro, the artist of The Swan Lady, has exhibited her work in galleries in Austin, Atlanta, Los Angeles and other cities. Her artwork often includes large bold forms and a theatrical manner and was strongly influenced by her architectural and performance backgrounds. She has cited Honore Daumier as an influence, calling him one of the greatest character inventors.
For more information about The Swan Lady or its new home, Living Well Assisted Living at Home, visit http://www.livingwellah.com/.
About the company:
Living Well offers specialized care for adults with chronic and debilitating conditions — like Alzheimer's, Parkinson's, ALS, and mental illness — that compromise their ability to live safely in their homes. At Living Well Assisted Living at Home, they combine a team of experts, the use of smart technology with exceptional customer service to deliver personalized, comprehensive care to seniors and adults with cognitive, behavioral, and movement disorders. Their approach to care at home enables those seniors and adults affected by Alzheimer's Disease and other dementias, Parkinson's, ALS, other neurological disorders, and mental illnesses, to live independent and meaningful lives. At Living Well, they aspire to create a safe and nurturing environment while allowing for independence and dignity for seniors and adults and offering peace of mind to the adult children and family members. Visit their website for more information, http://www.livingwellah-sf.com.