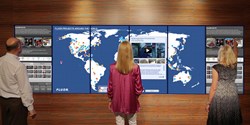 Rather than applying technology just for the sake of it, T1Visions gives us the chance to provide our customers an end-to-end solution that is functional, elegant, and simple.
Charlotte, NC (PRWEB) November 11, 2013
In its ongoing expansion initiatives, T1Visions has partnered with InfoRev Media to provide digital touchscreen technology solutions to the Northern California region. The partnership is spearheaded by Dave Aichele and Adam Loritsch of T1Visions with InfoRev Media founders David Liu and Erik Richmond. Formalized in August 2013, the partnership will target architecture and design firms along with corporate, education, and retail customers, with a focus on bridging the gap between technology and interior design within these markets.
With backgrounds in product development and manufacturing, Liu and Richmond saw T1Visions technology as an asset when creating their own business model. InfoRev Media secured their partnership with T1Visions before launching in September 2013. Currently, most technology is integrated with design retroactively. Liu and Richmond identified the opportunity to reverse this process. Instead, the InfoRev team works to integrate technology more thoughtfully and as part of the planning and design process, rather than as an afterthought.
Liu explains, "when working with clients, T1Visions is one of the first things we talk about. T1V helps us to build digital landscapes that provide a clear value proposition for the end-user. We identify why clients need technology, and how they will really leverage it. Rather than applying technology just for the sake of it, T1Visions gives us the chance to provide our customers an end-to-end solution that is functional, elegant, and simple."
In the marketplace, InfoRev notes that the T1Visions inTouch Wall is to a corporate environment as the fireplace is to every home: it is a central feature that design firms are able to design for specifically. The Wall serves as a way for corporations to sell their culture not only to their own clients, but to their internal stakeholders, as well. As corporations look to integrate technology into their working environment, InfoRev Media plans to be at the forefront of that conversation, with T1Visions technology driving development in the background.
In addition to the inTouch Walls, InfoRev Media will represent T1Visions' entire product line, including inTouch Tables, Digital Signage, AirConnect™ mobile technology, and its modular software offerings.
About T1Visions
T1Visions creates interactive touchscreen technology that brings people together. Deliberately large in size and incredibly durable, our inTouch Tables, Walls, and Digital Signage transform public spaces into more dynamic environments for groups of people looking to learn, share, and communicate both individually and collectively. Our team is made up of design, engineering, business and technology minds alike - resulting in unrivaled support to our customers from start to finish.
Based in Charlotte, NC, T1Visions works with retail, education, hospitality, corporate, and tradeshow markets around the globe. Visit http://www.t1visions.com to learn more about our products and how we can work with you and your industry.
About InfoRev Media
InfoRev Media helps organizations integrate digital technology into the workplace. We specialize in products and technologies that foster communication, collaboration and space utilization. We provide intelligence about the latest leading-edge products in both technology and furnishings. We bring this integration to the forefront of workplace planning and incorporate impactful communication strategies so our clients can connect their brand, people and facility – enhancing workplace experiences.
Based in San Francisco, CA, InfoRev Media was founded by Erik Richmond and David Liu – a team with over 50 years of experience designing and building effective workspaces, product development, technology integration, and communication strategies. Visit http://www.inforevmedia.com to learn more.